Unsung Hero – A Letter from Edgar's Grandson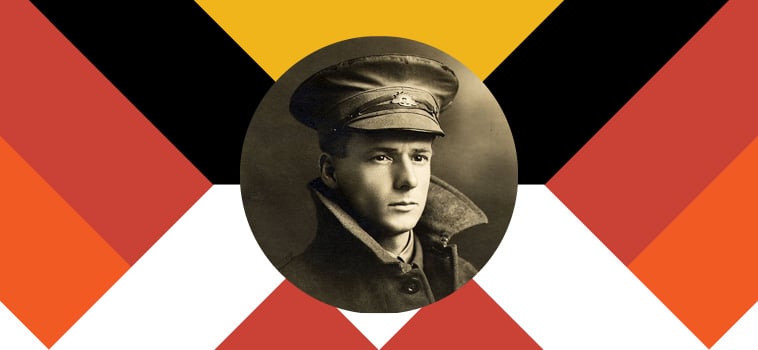 An Unsung Hero is one who does great deeds, but receives little or no recognition for them. Edgar Tattersall was one much man, a South Australian composer whose work has been largely forgotten. Having served in WWI in Egypt, Edgar also worked as a clerk, a music teacher and composer, and penned work under several aliases.
In March, we celebrated the music of this South Australian unsung hero, in a series of three special concert presentations in the Yorke Peninsula and one in North Adelaide. Featuring re-imaginings of a selection of his original songs, marches and dance compositions, these free concerts explored the way that the creative arts can shape our understanding of history.
This visit from members of the Adelaide Symphony Orchestra was the first time in over 30 years to the Yorke Peninsula.
One of Edgar Tattersall's grandsons, Geoff Tattersall, took the time to tell us a little bit about Edgar, and the families response to the news his fathers work was to be performed by the ASO.
---
Edgar Tattersall (1888 – 1948)
My name is Geoff Tattersall and I am one of the grandsons of Edgar Tattersall. I did not know him at first hand as he died several years before I was born, and what I do know has been passed on by my father, his son, and other family members. He is survived by his daughter, Sybil who lives in country Victoria and who has contributed to the following passages about his life.
Edgar was born in Adelaide in 1888. We know little of his early life. He had 2 sisters: Hannah, Sarah, and Mary Ellen, and prior to enlisting in the AIF, 29th December 2016 at the age of 28 years and 4 months, he was a clerk and typist.
He departed Australia on 17 November 1917 aboard the HMT Canberra and disembarked in the Middle East on 22 December 1917. In July 1918 he was posted as a signaller to 4 Signals Troop and he became a Light Horseman forming part of the 4th Light Horse Brigade of the 1st ANZAC Mounted Division. He returned to Australia aboard the HT Madras in June 1919, returning to Australia via Cairo and discharged in September 1919. Records suggest he was part of an ANZAC Band on the trip back.
A strong and consistent recollection of family is that Edgar was deeply affected, as were many light horseman, by shooting his horse at wars end rather than following orders to hand over his horse to British authorities, as quarantine laws precluded the horses from returning to Australia. The light horseman had become extremely attached to their mounts and did not want the possibility of these noble animals that they depended on being used and mistreated as draught horses or sold to the local population who generally did not treat their animals well. I have memories of my father saying this affected Edgar thereafter.
Sometime after returning to Australia he married Louisa and they had 4 children – Ila, Edgar (my father), Dale and Sybil. With my father sharing the same name as his father, to differentiate between them Edgar senior was called Ed and my father, Gar. Sybil is the only surviving child. Both Gar and Dale served in the RAAF during WW2.
They settled in the Payneham/Felixstowe area in the vicinity of what is now the Torrens Linear Park. It seems that things were not easy for the Tattersall family post war. Presumably Edgar's (snr) interest in music preceded his time in the army and it is evident that after the war he worked as a music teacher, but also worked in a local orchard when work was available. My father recalls that despite the difficulties of the time, Edgar (snr) always provided for the family. He spent much time composing music in his own name and under various nom de plumes, becoming increasingly frustrated with his lack of success in having his work published.
About 10 years prior to his death at age 59, Edgar came down with tuberculosis, presumably from his war service. My father told of his memory of his father propped up on pillows in his bed or slumped over his piano composing his music. Sybil has memories of him just prior to his death burning some of his manuscripts out of frustration. Ironically, before he died, he submitted 5 entries to a competition sponsored by the Melbourne Bread and Cheese Club with cash prizes. 13 weeks after he died the judges announced the outcome and all 5 of his entries were finalists and 2 won prizes. This outcome featured in local papers of the time and those articles have come to light in recent days following the news of these concerts by the ASO. One of the family has identified from a publication from the State Library that they have over 60 pieces of his work.
My father passed away almost 10 years ago so it is very salutary to include the following extract from those reports as they are words from the grave:
"Mr. Tattersall, jun., said his father composed words and music on various themes from time to time, and also won a South Australian centenary song contest. He was passionately fond of music. Mr.Tattersall said his only regret was that his father had not been alive to hear the announcement of his successes".
Edgar had several hospital visits to the "original" Repat hospital because of his ill health and subsequently died on 22nd February 1948 at the Repatriation General Hospital, Daw Park, where 60 years later, I became the CEO. He is buried in the War Service section of West Terrace Cemetery. Louisa passed away in 1989 aged 99 and 6 months at Aldersgate Village, Payneham.
Since the news that the ASO were going to be performing my grandfather's work, family members around the country have responded with much pride and emotion. It has triggered much review of family records. This is a big deal for us, particularly so for Sybil. We are extremely grateful to all those who have been part of giving recognition and life to a family member long since passed. Thank you. My only regret is that my father will not see it – at least not in my presence but maybe Ed and Gar will have their own seats together.
Geoff Tattersall
On behalf of the extended Tattersall family
12 March 2019