Simon Tedeschi Q&A with InDaily
21 May 2019
Behind the Scenes
Meet the Artists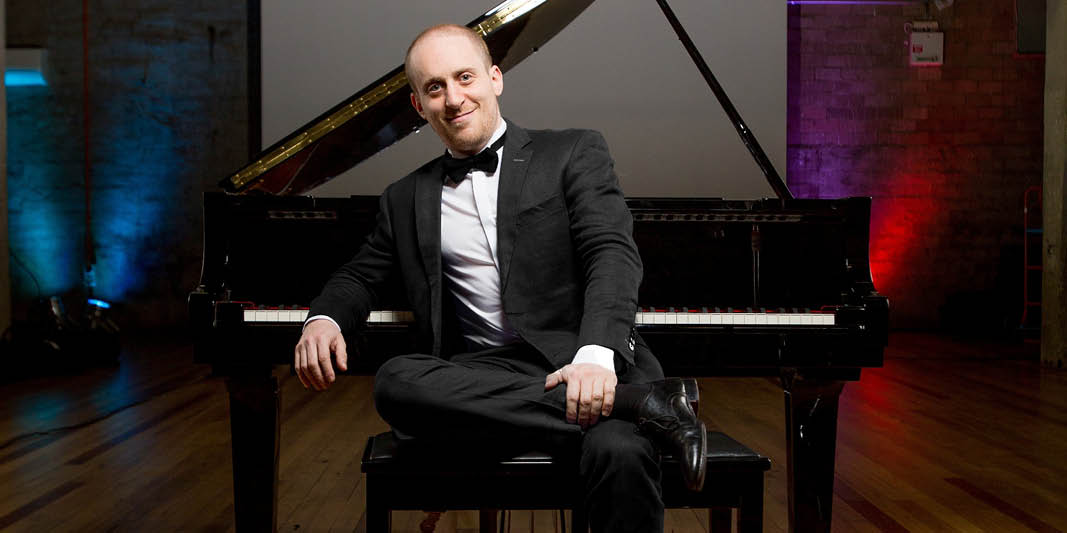 Australian pianist, Simon Tedeschi, talks to InDaily ahead of his performance with us in Who Needs a Conductor, Anyway?
Get your tickets to Who Needs a Conductor, Anyway? here.
Who needs a Conductor, Anyway?
Who Needs a Conductor, Anyway?, aimed at ages eight plus and being presented over two days as part of the DreamBIG Festival, will see Tedeschi joined by conductor Roger Benedict and musicians from the ASO.
Here, he explains what's in store at the concert and why he believes it is crucial young people are exposed to classical music, as well as revealing more about his own musical journey – including how his life course as a pianist was set in train when he was in just Year 1.
You are performing in the concert Who Needs a Conductor, Anyway? As a pianist, is this a question you've often pondered?
This actually is a question I have spent a lot of time thinking about during my career. It's obvious to a soloist, particularly for romantic and contemporary works, that a conductor is vital – but explaining to a non-musician exactly why a person needs to stand up there waving their arms about is harder than it sounds.
So what does the conductor bring to a concert?
What Roger and I hope to show – in a humorous fashion – is that the conductor is not just the rhythmic drive for the whole concerto but also a leader, communicator, mediator (if he/she is good) and, arguably, a great deal of what makes a soloist sound "good" or not.
The concert is aimed at children aged eight and over – why is it important for young people to be exposed to classical music?
There have been hundreds, if not thousands, of studies done about the importance of classical music for kids and young people, and the advocacy of Richard Gill marked a turning point in selling the importance of classical music in a universal way.
Classical music not only makes us smarter, better, more nuanced and more confident, but it also makes us less different – it celebrates everything about humanity that unites, and dispels everything about humanity that separates.
You first performed a Mozart Piano Concerto at age nine in the Sydney Opera House and have since performed in concert halls worldwide. How did your love for music develop?
I first heard a boy in my Year 1 class in Sydney playing piano, and the reason he was doing that was as physical therapy for his cerebral palsy. Little did he know that he had set the course of my life – I asked my parents to start piano lessons that very week.
Performing is a fascinating business – absolutely never boring, often quite frightening but also enlivening and, on a good day, riveting, because of the change it can make to people's lives.
You have been very open about suffering anxiety – how do you manage it?
To be honest, it's always been a struggle, but I'm glad I'm in an age when this can be talked about more openly. I practise hard, I run as much as I can and, if I'm playing a solo recital, I make jokes – which seems to help me as much as it helps the audience (if my jokes work!).
I think most solo performers have experienced anxiety, even if it isn't necessarily to do with their work on the stage. As artists, we are dealing with some form of the "ideal", an ideal we can never truly reach – which is a source of anxiety.
Finish this sentence: Music to me is… inseparable from me as a person.
What's your favourite work for piano?
Brahms Concerto no. 2 in B-flat major – or the Busoni Piano Concerto.
Who has influenced you most as a musician?
My mother, as she was the driving force in my early years as a musician and performer.
What is your most memorable musical performance?
Performing for 100,000 people with the Sydney Symphony Orchestra – because I had no idea prior to that what 100,000 people looked like, and even after the performance, I had no real idea because my brain couldn't really take it in.
What are you listening to at the moment?
Jazz pianist Larry Fuller.
Tell us three things people may not know about you?
I cannot cook.
I am a horror movie aficionado.
I am obsessed with cats.
Who Needs a Conductor, Anyway? will be presented at the Grainger Studio on May 27 and 28 as part of the DreamBIG Festival, which begins on May 22.
Published: https://indaily.com.au/arts-and-culture/music/2019/05/17/who-needs-a-conductor-anyway/