5 minutes with… Mark Gaydon, Principal Bassoon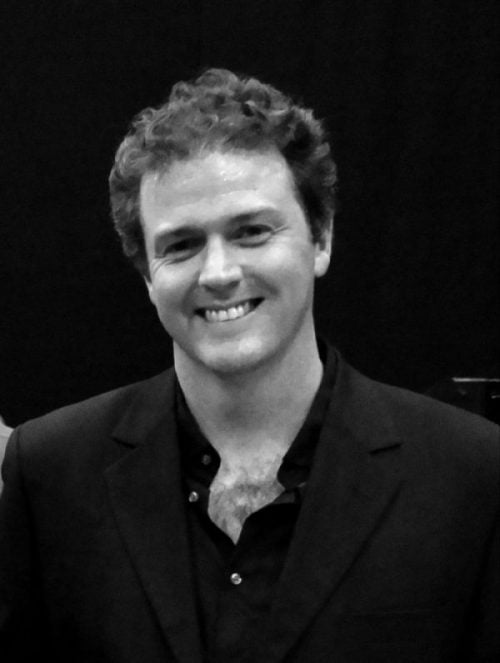 Mark Gaydon has been our Bassoon section leader since 2003. In the upcoming Mozart at Elder Two concert it's his time to shine as he takes to the stage to perform the Jolivet's jazzy Bassoon Concerto.
Here, he tells us about the Concerto, the moment he knew he'd make a career in music, and his love of tennis.
Describe Jolivet's Bassoon Concerto.
Jolivet's Bassoon Concerto is a stunning show piece combining intense lyricism and technical virtuosity. Often described as 15 minutes of bassoon gymnastics, the work is both excessively beautiful and impactful for its primal energy. I love it!
The jazz element gives the Concerto a edgy modern feel and plunges the bassoonist into somewhat unfamiliar territory but interestingly it allows the performer the opportunity to relax and explore a seldom explored style.
Have you ever performed this work before?
I last performed the concerto in 2000 in the USA.
How much time do you put into practising for a solo?
Because I'm revisiting this work, it has taken far less time than learning a new concerto from scratch. I started practice in February this year, and I've been ready to perform it for the past few months.
When did you decide to pursue a career as a musician?
As a teenager, I was obsessed with two things: tennis and writing songs on the guitar for my high school band. Growing up in Toowoomba, I was relatively sheltered from classical music, but when I discovered the bassoon and heard the Vivaldi bassoon concerto in e minor on the car radio one afternoon as a 16 or 17 year old, I was taken with the sweet, luscious and deep resonant sound. From that moment my path was set.
What is the best thing about being a musician?
Each day I have the privilege of playing great works of artistic genius and collaborating with my many wonderful and distinguished colleagues in the ASO. I love the sound of the bassoon and of the symphony orchestra.
Who has influenced you most as a musician?
Definitely the many wonderful bassoon teachers I've had over the years. Also I'd add the two amazing cellists YoYo Ma and Steven Isserlis who both have impeccable musicality and taste. An earlier inspiration to become a musician was the blues guitarist Stevie Ray Vaughan.
Tell us about the instrument you're playing on at the moment.
I bought my instrument in Madrid, Spain in 2018. It was made in 1987 and was played in the Madrid Symphony Orchestra for nearly 30 years. It is a 13000 series Heckel bassoon.
If you could play a different instrument, which would you choose and why?
The cello or the double bass for the rich depth of sound.
My most memorable performance with the ASO?
My most memorable performances with the ASO have been with our former chief conductor Arvo Volmer. In particular the Sibelius Symphony cycle and the bassoon Concerto I played with Arvo conducting: The Five Sacred Trees by John Williams.
Which solo or moment in the orchestral repertoire is your favourite?
The 'Berceuse' from Stravinsky's Firebird Suite.
When you're not performing or practicing, what do you enjoy doing in your free time?
My favourite thing to do outside music is definitely tennis.
If I weren't a professional musician, what would you be?
I'd like to think I'd be a writer or an artist, but I feel it's more likely I'd be a professional tennis coach.
What are you listening to at the moment?
I'm really enjoying the hip hop musical Hamilton by Lin Manuel Miranda. Such great drive and originality.
Name three things people may not know about you?
I'm also a composer.
I'm a former member of the Burnside Hardcourt Tennis Club.
The Scottish poet Robbie Burns is a distant family relative. We don't have absolutely 100% proof of this, but it's become part of our family folklore.
Don't miss Mark's solo at Mozart at Elder 2 on July 24, Elder Hall.