Concert rituals, with Hilary Bruer
6 Aug 2019
Meet the Artists
Musician Spotlight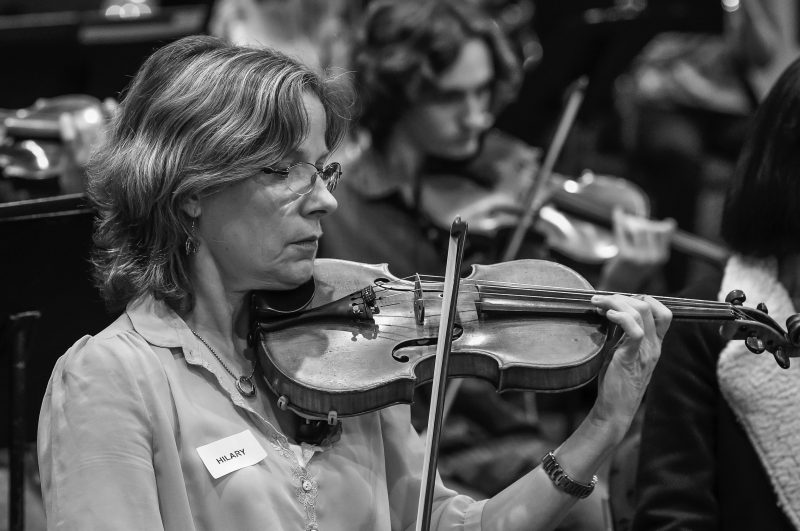 Violinist Hilary Bruer has been playing with the orchestra for 26 years. With all of that experience, does she still get nervous before concerts? And what are her pre-concert rituals? We caught her between rehearsals to find out.
You've been performing with ASO for 26 years – What does it feel like to be on stage?
It is amazing and exciting to be immersed in the sound! I especially love it when you can feel the vibrations of the bass instruments through the floor, or the Town Hall organ low notes… Everything shakes!
How often do you practice the music you perform?
It entirely depends on how familiar the repertoire is. I always like to get my music prior to the rehearsal period, no matter what. Some weeks may require many hours of preparation at home- yet others can require very little if the music is easy and familiar.
Do you get nervous for concerts?
Not very often, but it depends on the repertoire and how tricky it is to play.
What is your pre-concert ritual?
I always have to eat something!! I also like to arrive at least half an hour before the start, to warm up on some scales and exercises – then to have a look over any tricky bits that are within the concert music.
What is your post-concert ritual?
I often leave and go straight home and eat again! But sometimes I go to out for a while to wind down with my colleagues (and then eat when I get home!).
What is your favourite part of performing at concerts?
I love performing Tchaikovsky and Brahms. Beethoven Symphonies are also a favourite.
What is it like to be a part of a symphony orchestra?
It is an absolute privilege!