Meet our Subscriptions Team!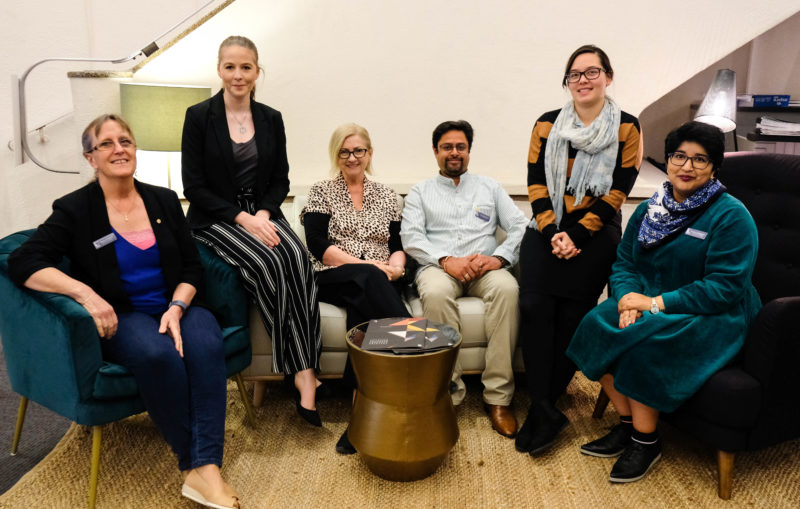 Our incredible Subscriptions Team is on hand to help you choose and book your 2020 concerts. You can visit our Subscriber Lounge Monday – Saturday (until Oct 26), and chat through your subscription over a cup of tea with one of these wonderful humans, or call our Box Office on 8233 6226, and they can assist you over the phone.
With a very wide range of backgrounds and experience, our Subscriptions Team can offer advice on concerts, or simply process your form for you.
L-R: Alison, Nicola, Leigh, Jatin, Kathleen and Riani
Leigh – Subscriptions and Ticketing Coordinator
After studying music at the University of Canterbury I worked as a music educator in Christchurch, NZ. Then the Court Theatre's Schools Education troupe began a journey that brought me to Australia with my husband of 34 years. Adelaide's Dream Big Festival (formerly Come Out) gave me my first opportunity here as Schools Bookings Manager – this is where my love for ticketing began. I then spent many years as Arts Education Manager at Carclew followed by two years at the Australian String Quartet before being offered a position in the ASO's Box Office team last year. It is thrilling to be working in the music sector again and such a pleasure to belong to the ASO family.
Alison – Box Office Assistant
My relationship with the ASO started on my arrival in Adelaide in 1977, and I have been a subscriber since 1978. In the late 80s I worked for an IT company that sponsored some Master Series concerts and became the de facto liaison between them and the ASO. I've been a Committee member with the Friends of the ASO since 2005, and have worked with many players, ASO staff and subscribers in recent years. I love the Orchestra and its music, and thoroughly enjoy working with subscribers to create the best possible experience for them in 2020.
Jatin – BOX OFFICE ASSISTANT
I am Jatin Sabharwal, originally from Pune, India. My family and I moved to Adelaide about 5 years ago and have loved it ever since. I have have spent most of my working career as a business adviser and running an independent management consultancy service in India, with clients from sectors including Agriculture, Property, Hospitality and Manufacturing.
In Adelaide, I have been involved as a volunteer with a lot of amazing organisations such as Cancer Council, Pacific School Games 2015/2017, Tandanya-Tarnanthi Art Fair 2018, and Gilles Street Primary School. I enjoy Customer Service and engaging with the Community .. and I am a keen cricket enthusiast!
Riana – BOX OFFICE ASSISTANT
I'm Riana and I've been involved with the ASO as a youth advocate and chorister for concerts, and now as a box office assistant. Working in the subscriptions team is a lot of fun! We all bring a range of different skills and experiences to the table, and it's great to have a group that gets along so well. The work is really interesting and varied, and it's impossible to get bored. Every member of the ASO staff I've met has been lovely and friendly, and it's nice to sit in the box office in the mornings because you get to say hi to everyone who walks past!
Nicola – Box office assistant
Growing up my parents instilled in me a love of music and the arts. Our closest family friends have been players in the ASO for many years so I've been privileged enough to be surrounded by orchestral music my whole life. My younger brother now plays casually with the orchestra and working at the Grainger Studio has meant I've seen many familiar faces. I've been running a small online businesses for the past 5 years and it's been a wonderful change of scenery to begin working with the ASO. I love being able to contribute to an organisation which produces such amazing and incredible music. The orchestral players, office staff and patrons have all been delightful to work with and I look forward to the 2020 season!