ASO in the Kitchen: Orchestra Personnel Manager Karen Frost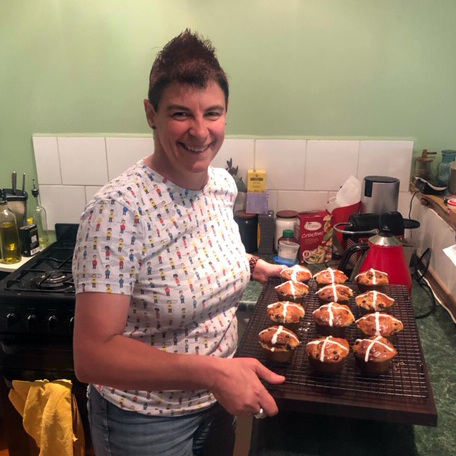 Meet ASO Orchestra Personnel Manager Karen Frost. Not only is she responsible for getting the musicians' rosters in order, she is also a fabulous foodie. For the past twelve years, Karen has been inspiring players with the recipes she includes in their rosters.
Easter celebrations this year will be different for many of us, because we won't be able to gather in the usual way. When there are challenges and uncertainty, we often find comfort in the kitchen. Karen's Hot Cross Muffin recipe is perfect for sharing and connecting with the people we love.
Tell us what your job involves. What does a week in your role normally look like?
My job revolves around player management. I roster our musicians and manage the orchestral schedule across all of ASO's activities. Pre-COVID-19, a standard week would comprise of ensuring players attend rehearsals and performances, are in the correct concert attire, have the correct music and schedules, as well as attending meetings to discuss future planning and programming. Basically, anything to do with the players, my team and I handle.
Now what does that week look like mid-COVID-19?
Well, now we are in a whole new world…At the moment we are looking at ways that we can still get the players to connect with the community, and all our supporters. We are looking at ways to beam them into your lounge rooms and how we can best achieve that – given this is a new realm for us at the ASO. I am also in constant communication with the player group to ensure they are okay given these very strange circumstances in which we find ourselves.
How long have you been with the orchestra?
I have been with the ASO 18 years this year.
You've been sending out recipes as part of the orchestra's roster for twelve years. How did this tradition start? Where do the recipes come from?
I initially set up a monthly "ASO Farmer's Market" where everyone would bring in what they were growing at home. From there, we decided we needed recipes to go with the produce. Most of the recipes are mine (from my mum or grandma initially), with the occasional one sent in by other players or staff – I always welcome new suggestions!
Is there cooking rivalry in the orchestra? Who would be the head chef and why?
I don't think there is rivalry, but there are a lot of players and staff who love to cook, some are better with savoury, some are better with sweet – it's a nice mix. There are quite a few players who regularly bring in cakes to share. Violinist Gillian Braithwaite applied for both Masterchef and Great Australian Bake-Off, and it was always wonderful when she was practising at home and would bring in her creations, and violinist Danni Jaquillard regularly brings delicious homemade cakes.
Describe your last supper. What would be on the menu and who would be at the dinner table?
Guests would include William Shakespeare, Walt Disney, George RR Martin, the new Doctor Who – Jodie Whittaker, Arya Stark (from Game of Thrones), Sherlock Holmes, Mulder and Scully (from the XFiles), oh and my wife Tammy!
My menu would showcase food from all around the world:

Cocktails & Aperitifs Gin and tonic or sangria, served with some small Spanish tapas plates

Entrée SA seafood indulgence platters – salt and pepper squid, oysters, gravlax salmon, crayfish and prawns

Main Moroccan preserved lemon, green olive and chicken tagine, served with vegetable couscous and pomegranate salad

Dessert Tammy's watermelon cake

Cheese Selection of French cheeses, muscatels and crackers
All served with the correct wines from the regions…(see, I told you I over-cater!)
What music do you like to listen to when you are cooking up storm in the kitchen?
Actually I have quite a varied collection of music, and you'll be surprised to know it's not classical! I'm currently listening to an album called "For the Throne"; it's inspired by Game of Thrones, but I also listen to Adele, Conchita Wurst, Dire Straits, Sia, Evanescence, Dolly Parton, Florence and the Machine, P!nk and various others. Oh, and I like musicals by Lin-Manuel Miranda (In the Heights and Hamilton).
My favourite take-away is…
Fish and chips from Soto's Fish Shop at Semaphore – best in Adelaide, hands down (except if I catch my own fish and cook it that is!)
The weirdest thing in my pantry is…
Wasabi powder from Japan, and a black truffle from Tasmania
My favourite section of the orchestra is…
Percussion – I like the variety, sometimes in rehearsals for the Showcase Concerts, I sneak up the back and Section Principal Percussion Steve Peterka lets me play bits and pieces…
My favourite piece of music and why you love it?
Wagner's Ride of the Valkyries from Die Walküre. It reminds me of stage managing the first Ring Cycle in Adelaide in 1998, when I worked for State Opera, and everything we went through to put that onstage for the first time. The second time around (2004), I was putting the orchestra together, so I feel like I know it very well now!
Do you play any instruments?
No, it's in the orchestra's best interest that I don't – trust me!
Karen's Hot Cross Muffins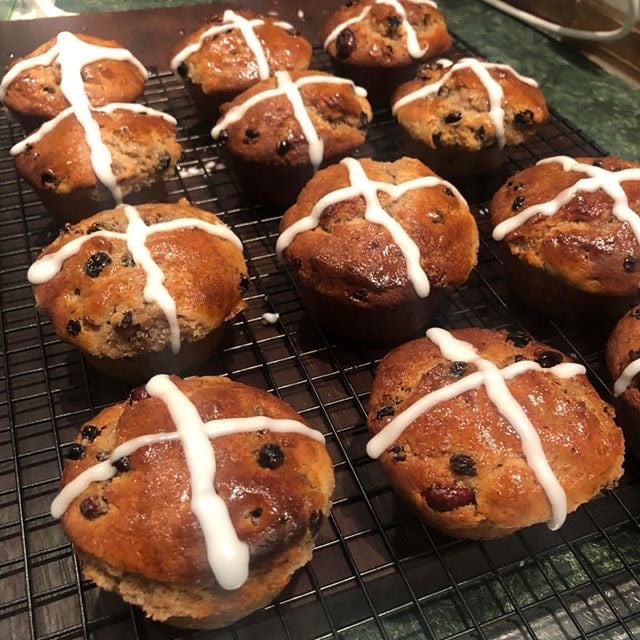 Ingredients:
135gm dried cranberries
1 cup (150gm) currants
2 ½ cups (375gm) self-raising flour
½ tsp bicarbonate of soda
2 tsp ground cinnamon
½ tsp ground nutmeg
2/3 cup (165ml) sunflower oil
1 cup (250ml) buttermilk
2 eggs
200gm caster sugar, plus extra 2 Tbls
80gm icing sugar
1 tsp lemon juice
Method:
Preheat oven to 200°C. Grease a 12 hole muffin tray and line with paper cases.
Soak dried fruit in just enough boiling water to cover for 10 mins. Drain well, then pat dry with paper towel.
Sift flour, bicarb and spices into a large bowl. In a separate bowl, whisk together the oil, buttermilk, eggs and sugar until combined. Add to the dry ingredients and stir to combine. Gently stir in the fruit. Divide the mixture among muffin cases, then bake for 20-25 mins until lightly browned and a skewer inserted into the centre comes out clean. Cool completely on wire rack.
Meanwhile, place the extra 2 tbs sugar in a pan with 2 tbs water and simmer over low heat, stirring, until sugar dissolves. Brush the glaze over the muffins.
Sift icing sugar into bowl, add lemon juice and enough hot water to make a thick icing. Use a piping bag or drizzle from a spoon to draw a cross on each muffin, and serve.