We Are Family: Bramble Brothers in ASO Arms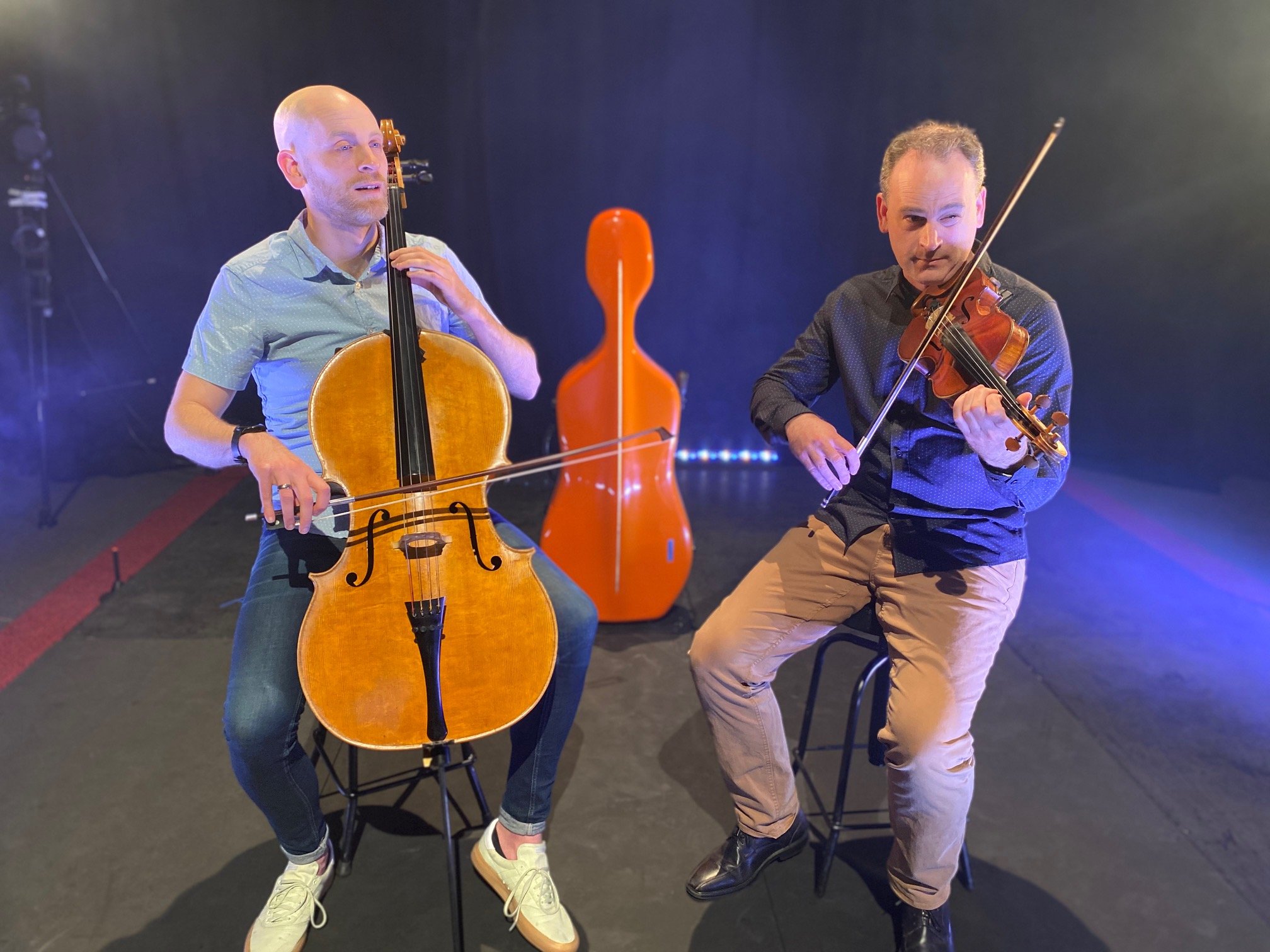 Lachlan Bramble is ASO's Associate Principal 2nd Violin and his younger brother Ewen is Associate Principal Cello. They are also part of a highly successful trio The Benaud Trio and have just released an album of music by SA composer Luke Altmann.
Here we find out about Lachlan and Ewen's very musical upbringing, see if there's any sibling rivalry between them, and hear what they are listening to in COVID-19 isolation.
Having a father who was a highly respected horn player with the MSO and a mother who was a string teacher, it seems inevitable that you were destined to pursue a career in music. Can you tell us a bit about your musical household growing up?
Lachlan: Seeing what our parents did meant we were accustomed to the idea that giving concerts and teaching music could be a career. It would have taken longer to come to that realisation if our parents worked a trade or in an office job. Plenty to thank our parents for!
Ewen: Many of my earliest memories relate to music one way or another. Dad had (and still has) a large collection of LP's all lined up in the lounge and I'd watch as he delicately placed them on his record player – I remember being under strict instruction not to touch but it was hard to resist the spinning record. I have clear memories of the Beethoven symphonies being played and Dad telling me about the Pastoral symphony and how it told a story. Mum always had pupils coming along for violin or piano lessons, and as we grew older my siblings were beginning to learn and practise instruments of their own. So there certainly was a near-constant musical soundtrack in our house growing up.
Do you have any other musically talented siblings waiting in the wings to join the ASO?
Ewen: We have three sisters – Myfanwy, Merewyn and Rhianwen – who have all followed a musical path in their careers. Myfanwy (cellist) and Rhianwen (violinist/violist) are both string, ensemble and theory teachers at schools in Melbourne. Merewyn (violist) plays with the Melbourne Chamber Orchestra and freelances with the MSO amongst others.
Lachlan: Merewyn has come and played viola with the ASO on several occasions.
As musicians, was there ever any sibling rivalry between you growing up, and if so how did you all manage it?
Ewen: I don't recall there being much, if any rivalry between us. A good staggering of instrument choice with our age gaps probably helped, but because we played chamber music together a great deal this fostered a collegial spirit between us.
Lachlan: I think there was more sibling rivalry when we played cricket than when we played music! Music should be non-competitive so we tried to keep it like that.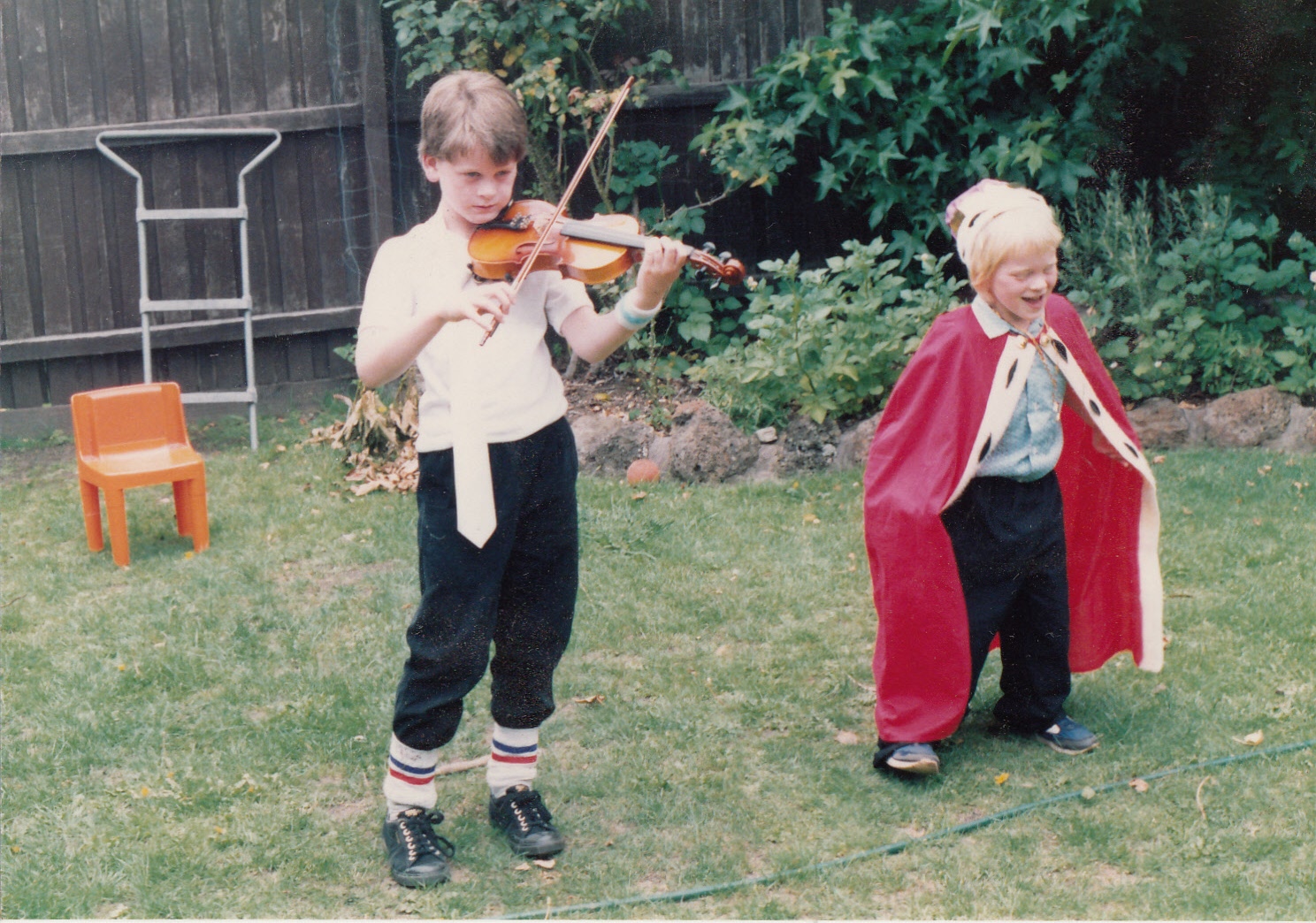 What was on the Bramble playlist when you were growing up?
Lachlan: We heard more Mahler, Bruckner and Strauss than your average string player because Dad played a brass instrument. There was a healthy diet of chamber music as well. It was my uncle who introduced me to the thrilling sounds of the Rolling Stones played loud!
Ewen: I'd say our playlist was a nice split between symphonic works (particularly Beethoven, Sibelius) and plenty of chamber music (the piano trios and quartets of Dvorak and Beethoven were a favourite).
What are the advantages/disadvantages of having a sibling in the orchestra?
Lachlan: Moving to Adelaide it was strange not having a sibling somewhere in the orchestra. When Ewen arrived three years later it was nice to have that family connection once again.
Ewen: Having played together for so many years we tend to share similar ideas musically which is always nice. And in a more practical sense, when I first joined the orchestra it was great to have a familiar face and someone I could ask for advice about the unique world of playing in a professional orchestra.
You've formed one of Australia's finest chamber ensembles The Benaud Trio with Melbourne pianist Amir Farid. What brought the three of you together?
Ewen: We met Amir whilst studying at the University of Melbourne Conservatorium. The three of us were all in different year levels but in such a social and collaborative environment it didn't take long before we were playing together. Amir joined me in my first-year cello exam playing a Beethoven Sonata amongst other things and from that point on he was my 'go-to' as a pianist. It helps that he's a fun guy to be around as well! Lachlan and Amir worked similarly as a duet and a year or so later we decided to play some trio repertoire altogether.
Lachlan: Ewen and I had played together lots…and when Amir joined it also felt like family!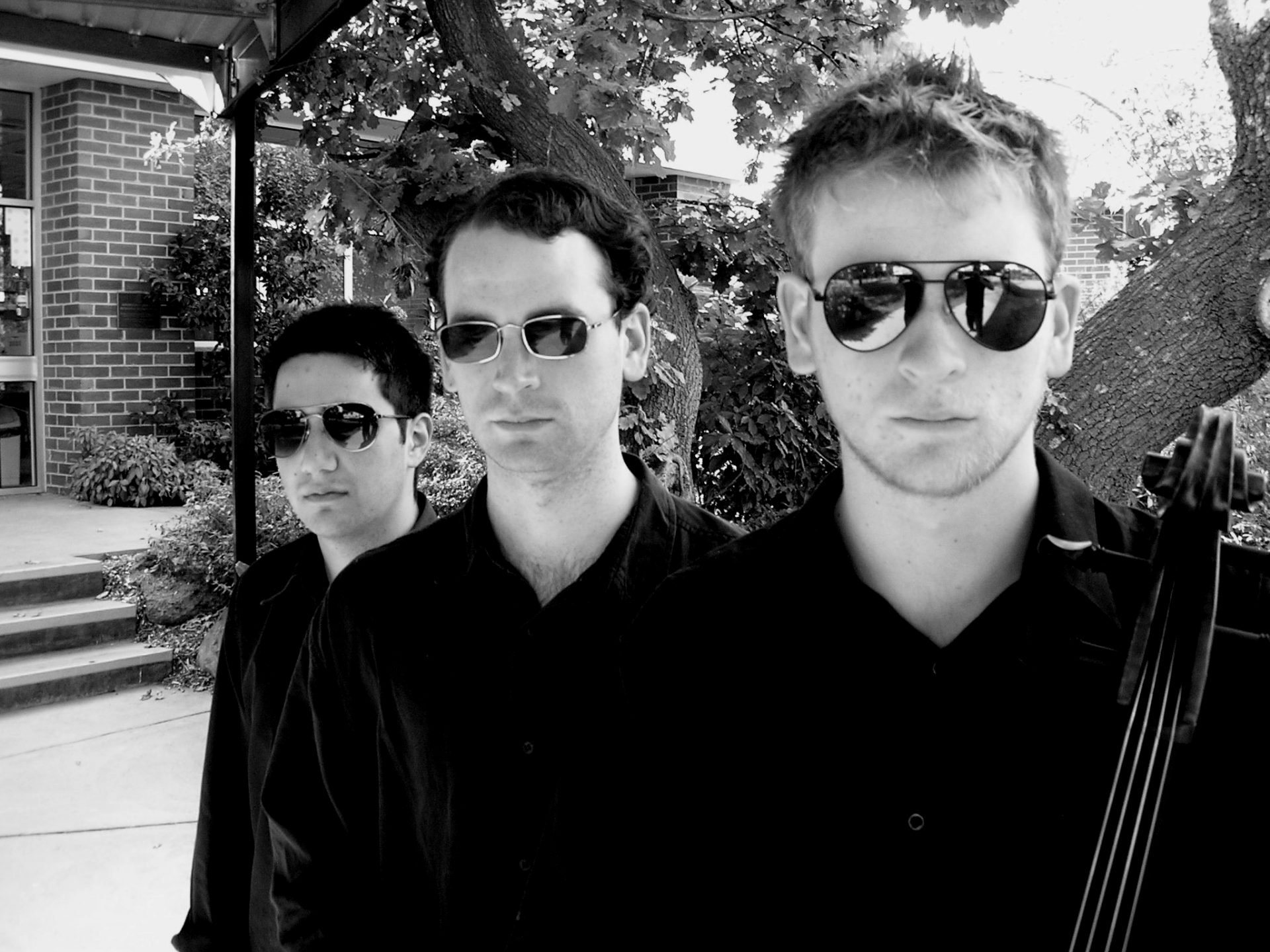 What's the meaning behind the name The Benaud Trio?
Lachlan: We're named after the doyen of Australian cricket: Richie Benaud. We wanted a name that was somewhat detached from music for our trio. Richie's voice is familiar, comforting but also sophisticated. These are qualities we aim for in our music making.
Ewen: Around the time we formed as a trio we entered the Australian Chamber Music Competition, and filling out the entry form we realised we needed a name! We threw a few ideas around, and given our mutual love of cricket, naming ourselves after Richie seemed the perfect choice.
You've just released The Benaud Trio's #5 album Holy Fools which is described as 'music for comfort and refuge'. It seems perfectly timed for living in COVID-19 isolation. Tell us about the album.
Ewen: It's the culmination of more than a decade of collaboration between the trio and Adelaide-based composer Luke Altmann. One way of describing the music on the album might be 'chamber-chill' but that would be selling it short; a better description might be the spacious calm of Arvo Pärt meets the melodic wandering of Franz Schubert…
Lachlan: This album has been a wonderful opportunity to explore the music of a single composer rather than the usual mixture of repertoire. Luke is a great talent and you will definitely hear more from him in the future. If you like the music of Max Richter and Ludovico Einaudi then you'll love this record.
The album debuted at #9 on the classical charts in Italy! Did you know you had such a loyal following in Italy?
Lachlan: We have at least one fan in Italy! Unfortunately, it doesn't take many sales to hit the charts these days, but we are glad people are enjoying our music all over the world.
Ewen: This came as a very welcome surprise to us – thanks to the internet it is easier than ever to connect with listeners all over the world.
How do you normally juggle the demands of being a member of the Adelaide Symphony and being a chamber musician?
Ewen: Being able to perform chamber music whilst being a full-time orchestral musician is a real luxury for us. It gives even greater variety musically and presents challenges that are different from those faced in an orchestra. The skills overlap a lot, but there are also key differences; playing chamber music makes us better orchestral musicians.
Lachlan: The juggle can be hard but it's a great problem to have! Scheduling can be tricky, especially as our pianist Amir now lives in New York, but somehow we always manage to make it work.
What are you listening to in isolation?
Lachlan's Top 5
1. Schubert – String Quintet, 1st movement – Hagen Quartet – It's the best…plus the Bramble siblings used to play to this together a lot.
2. Wagner – Siegfried Idyll – Solti, Wiener Philharmonic – The most intimate and beautiful way to enjoy Wagner.
3. Luke Altmann – Holy Fools – Benaud Trio – It's our new album. We'd love you to hear it!
4. Respighi – Ancient Airs and Dances 'Bergamasca'(4th movement from Suite 2) – Uplifting, optimistic and wonderful.
5. The Rolling Stones – One Hit (from 'Dirty Work' 1986) – Let's party like its 1986!
Ewen's Top 5
1. Bach – Cello Suite No.4 in E flat I. Prelude – Pierre Fournier – Richness and generosity, optimism
2. Beethoven – String Quartet Op 130/133 V. Cavatina – Warm and embracing
3. Dvorak – Klid (Silent Woods) – Calm and peace
4. Vasks – Violin Concerto 'Distant Light', V. Andante – Hauntingly beautiful
5. Brahms – Piano Quartet in G minor Op. 25 III. Andante con moto – A perfect combination of all the words I used to describe the Bach and Beethoven above.
Purchase your copy of The Benaud Trio's latest album, Holy Fools.