MUSOS OF THE ASO: Janet Anderson, Tutti Violin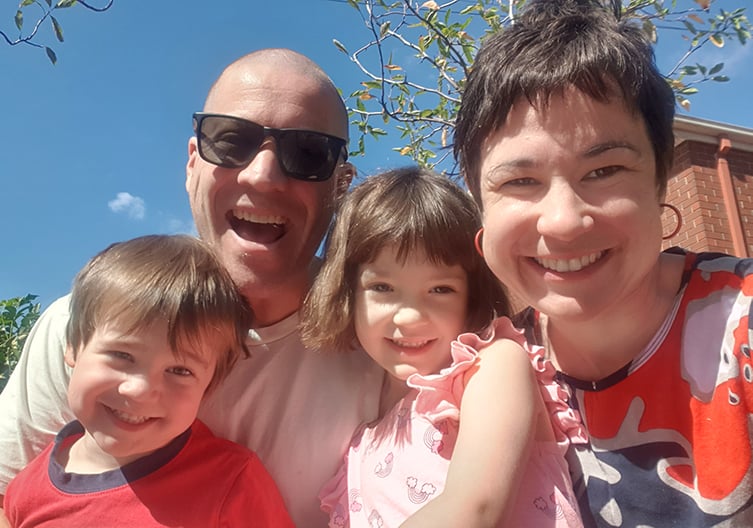 Janet Anderson has been with the orchestra since 2007, and during COVID she missed everything about playing music. She says, " I missed everything about it. The weekly challenge of learning the repertoire, the camaraderie and friendship with everyone at the ASO. Being able to bring the music alive as a collective ensemble, knowing that everyone has an important part to play and to play to an appreciative audience. To create music for our own enjoyment is one thing – but to perform it for others is the ultimate goal. The actual presence of the audience is such a vital part of the whole live music-making experience."
Janet lives with her husband and ASO casual trumpeter Dave Khafagi and their two gorgeous kids.
Read on to find out who it is she's spent over two-thirds of her life with.
Hometown:
Brisbane
Education:
Queensland Conservatorium and Hochschule für Musik und Theatre – Munich, Germany.
When did you know you'd make a career in music?
I performed a solo with my high school orchestra in Grade 12. Up until that point, I was determined to be a physiotherapist or, more specifically, a physiotherapist who specialised in working with musicians. I did look into studying a dual degree in Music and Physio; however, I realised that if I wanted to be a musician, I would have to give it everything.
If you weren't a professional musician what would you be?
A physiotherapist. I am fascinated by the human body, how adaptable and resilient it is. I did my Honours thesis on the prevalence of injuries in violinists, and how best to strengthen our body and hone our technique as violinists to keep any injuries at bay.
How did you choose the violin?
My mum taught at Stoliarsky Russian music school in Brisbane, which I attended on Saturday mornings as a young kid. After seeing a few concerts, I asked to learn "the thing with the stick" (the violin).
Is there anything special about your actual instrument?
My instrument is a beautiful old violin from Northern Germany made in the 1790s by a maker called "Old Heinrich". I am extremely lucky that it has been my one and only instrument from the time when I was big enough to move on to playing a full-sized violin in Grade 7 at primary school. We have already spent over two-thirds of my life together!
Describe the best thing about being a musician:
It is such a privilege to play music for a living. To be a member of an orchestra performing new and challenging repertoire (as well as the old favourites, of course) each week bringing music and joy into the lives of others is a dream come true. My parents always wanted me to find what I have a passion for in life and pursue my dreams. Having a job playing music is literally living the dream.
Music to you is…
Everything.
Who has influenced you most as a musician?
My biggest mentors as a violinist have undoubtedly been my teachers: Michele Walsh at the Queensland Conservatorium, Professor Gottfried Schneider in Munich and Aiko Goto, my mentor through the Australian Chamber Orchestra's Emerging Artist Program.
If you could play a different instrument, which would you choose and why?
I would love to revisit playing the piano. I played it up until the end of high school and then have very rarely touched it since. To have that greater appreciation for harmonic structure and to be able to play my students' piano accompaniment parts would be very handy.
What have been your most memorable performances with the ASO?
Performing all the Mahler symphonies with ASO has definitely been a highlight. To play such amazing music with so many musicians on and off stage is a truly magnificent experience. To play great music, with great musicians and a great conductor is the dream. Sometimes you also experience an extra special performance, when performers and audience alike are all in the zone and something quite extraordinary is created in the moment.
Can you recall your first orchestral concert and what made it memorable?
I loved my first national music camp concert, in which we performed Saint-Saëns Organ Symphony and Stravinsky's Firebird. It also proved to seal the deal for me wanting to pursue music as a career. Earlier on, performing lots of Vivaldi and Bach in the Stoliarsky music school chamber orchestras established a love for that repertoire and playing music with others in general.
COVID-19 put a pause over ASO concerts; what did you miss the most about not being able to perform?
I missed everything about it. The weekly challenge of learning the repertoire, the camaraderie and friendship with everyone at the ASO. Being able to bring the music alive as a collective ensemble, knowing that everyone has an important part to play and to play to an appreciative audience. To create the music for our own enjoyment is one thing – but to perform it for others is the ultimate goal. The actual presence of the audience is such a vital part of the whole live music-making experience.
Despite not being able to perform in concerts you still had to remain fit to play for when concerts resumed. How many hours a day are you practising, and what repertoire are you selecting? Where in the house do you practise?
Realistically on average two hours a day (although ideally I would love to be doing much more) – but it is a logistical challenge each day tag-teaming practice with my trumpet-playing husband and kid-wrangling our beautiful two- and four- year-olds! We are lucky enough to have a fairly soundproof practice room – it is great to have a space dedicated to music-making.
What did you most crave whilst in isolation?
Chamber music – playing music with other musicians.
When you're not performing or practising, what do you enjoy doing in your free time?
Playing with our kids, visiting family and friends, going to the beach, going for a run, yoga and pilates.
When you're not listening to classical music what do you listen to?
Lots of ABC kids' songs and Disney movie tunes at the moment! Our four-year-old daughter loves singing and dancing along to the Frozen and Moana soundtracks.
What has been your most memorable musical experience as an audience member?
I always love going to listen to ACO concerts – I always come away feeling inspired. When we lived in Munich we were spoilt for choice in terms of the world-class musicians performing every single week – we went to as many as we could go to. Hearing the Bavarian Radio Symphony perform was always amazing. Thankfully our 8-Euro student tickets made the concerts fairly affordable.
Do you come from a musical family?
My mum is a flute, theory and piano teacher.
Name three things people might not know about you:
I did art at high school and would love to have time to paint and draw again.
I've run a half marathon and would love to prepare to run another one in the near future.
My weakness is Haigh's Milk Chocolate Honeycomb block.
What's your idea of a perfect day in Adelaide?
Go for a run, have a family breakfast at a local café, take the kids and dog to the beach and then perform an ASO concert in the evening.
What piece of music never fails to move you?
Slow movement from Beethoven's Emperor Piano Concerto.
What's your favourite type of food?
Dave makes a delicious lamb moussaka and I love my Mum's lasagne too.
What books are on your nightstand?
Too many to count!
Do you speak any other languages?
I learnt German at high school and spoke it whilst we lived in Germany (though I have forgotten so much of it now) and I can remember my Japanese Kanji characters which I learnt in primary school – does that count?
Do you have any hobbies?
Running, yoga, pilates, spin classes.