Viola Martin Butler's farewell performance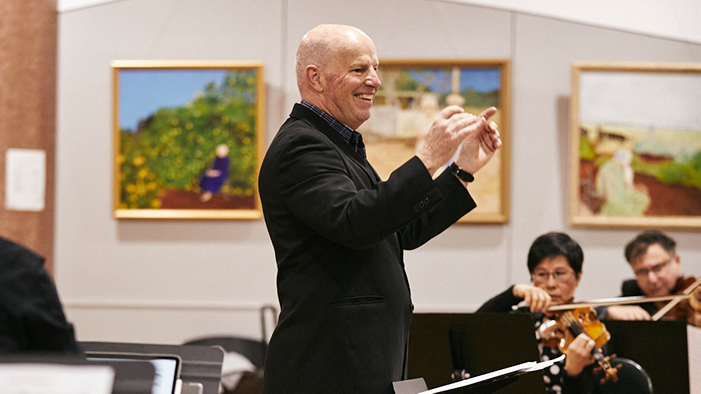 I'm finishing my orchestral career at the end of this week with a performance of Sibelius's 2nd Symphony. When the ascending three note theme in the 'finale' rises from the ashes of the preceding movement it promises to be, in a very personal way, a triumphant finish to the wonderful time I have had playing with the Adelaide Symphony Orchestra for the last 31 years.
Back in 1990 a friend in the UK told me what to expect moving from Europe to Australia. You fly all that way – a 'groggy, elongated day' according to Peter Conrad – only to arrive at a city that seems to replicate the one you just left behind. I was initially disappointed with the "Englishness" of it all but I was also amused that people drank water that came off the roof and drove into a bottle-shop and got a carton of beer handed through the window without getting out of the car.
Of course, Adelaide has changed immeasurably since then (although we still have drive-in bottle-shops and rainwater tanks). It has shaken off its English provincialism and become a beautiful, liveable city with a welcoming Mediterranean climate. The ASO has also changed. We are more embedded into the community, we take more risks, and we take music education very seriously. We have always played a lovely mix of styles – a few weeks of ballet, a few operas, pops concerts and our main subscription series. Now we also do interesting projects such as a program of music solely by women composers, or a series of concerts for people to lie on mats and meditate.
I always like to remind listeners that the word "symphony'" literally means 'sounding together' and that playing together is all about teamwork. To perform well as a team you have to have the trust and respect of your colleagues and I have always felt that with our orchestra we are, indeed, one big family. This is what I will miss most of all!
See Martin perform in his final concert this weekend at Symphony Series 3