5 Minutes with Composer Grayson Rotumah
11 Jul 2023
Meet the Artists
Musician Spotlight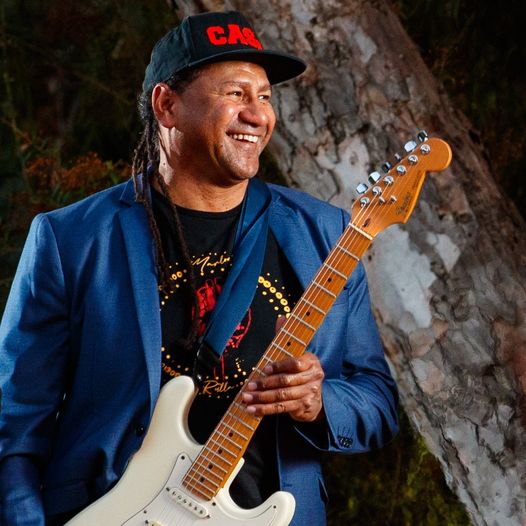 Composer Grayson Rotumah reveals the story behind his new work Creation. Read on to discover what audiences can expect from the performance and what unique and new instruments are featured.
Set the scene for the concert, what can audiences expect from this performance?
The concerto grosso will be Indigenous musicians seated around a campfire and yarning, performing and singing with the ASO behind them. The audience will be immersed in the sounds of the Bundjalung on a musical ecological and spiritual journey through the retelling of a Bundjalung timeline through my lense and supported by an all Indigenous group – Kuarna man Robert Taylor on Yidaki, Hip Hop Artists Marlon X Rulla and Electric Chrystal Player Dylan Crismani. Creation will fuse old-world stories with contemporary genres and textures that hope to evoke a sense of Bundjalung Landscape via explorations of orchestral layerings of texture, colour and thematic repetition.  
Creation is the culmination of an artistic partnership with the ASO and First Nations artists and is part of the ASO's community project Floods of Fire – tell us about it.
Around the Fire  
The symbolism of Fire resonates through all communities and cultures, and can draw connections to survival, or being seminal to cultural practice, destruction, war and even song. This work will be centered around a fire and will be seminal to connecting the stories and song.  
Celebration of cultures
When the orchestra performs with First Nations artists, I want it to be a dreamlike and meaningful experience for the audience and musicians alike. This collaboration between two very different musical traditions can lead to a beautiful and unique sound that celebrates both cultures.
This partnership will unite Indigenous musicians and ASO to create a new music that will celebrate language, song, story and experience of Bundjalung community.
Reconcile  
The Floods of Fire project is a stage to showcase Indigenous culture and the ASO together as a way to break down barriers between Indigenous and non-Indigenous Australians.  
Bundjalung songs meet the ASO, it's a meeting of two different but vibrant musical cultures that can potentially create something new and truly evocative, even life-changing. The Floods of Fire project is an opportunity to learn, share and understand Bundjalung culture and to promote unity and understanding here on Kaurna Land.  
"Traditional" and "Contemporary" music are both incredibly important and influential parts of Indigenous music. Although traditional music and contemporary music may seem worlds apart, I believe that there is a lot of overlap that occurs when these two genres meet.
The other crucial area where these two can coexist is in the world of collaborations. Musicians from different cultures or genres frequently come together to create unexpected and inspiring fusions of tradition and innovation.
Australian First Nations music has a rich and ancient, yet evolving history, dating back thousands of years. The musical traditions of First Nations communities have certainly evolved and changed over time but we still reflect the cultural, political, and social changes experienced by Indigenous peoples. The Lived Experience!!
Many artists infuse cultural elements such as rhythms and language with elements of rock, hip-hop, and electronic music, which explores the boundaries of what First Nations music can be. We as Indigenous musicians use our musical voice to express our lived experiences as Indigenous peoples and to promote cultural preservation and pride.
What excites you most about the project?
Ultimately, the meeting of Indigenous Voice and Orchestra music is often a mutually beneficial one. By honouring the past while looking towards the future, musicians can create new, exciting forms of art that challenge and inspire the listener.
When the orchestra meets First Nations people, it can be a very powerful and meaningful experience. The collaboration between two very different musical traditions can lead to a beautiful and unique sound that celebrates both cultures.  
Some interesting and new instruments feature in the performance. What are they and what sounds do they make?
The campfire performance will feature a musical fusion of Bundjalung songs fused with Hip Hop Artists Rulla Mansell, Kaurna Yidaki by Robert Taylor and Electric Chrystal played by Dylan Crismani. The Electric Chrystal has a series of tuned steel rods that produce a unique timbre that could be compared to a yidaki, cello or clarinet. The steel rods are bowed using wet glass cylinders to produce ambient haunting and ethereal textures that will complement the spoken word, rapping, singing and yidaki to give a cultural ambience. The Electric Chrystal morphed with yidaki and spoken word, rap and guitar will create a spiritually haunting, beautiful but eery vibe.
Will the Yugambeh-Bundjalung language be featured in this performance? How have you incorporated traditional language into the work?
All Indigenous languages are an integral part of the culture and identity of Indigenous communities around the world. They contain knowledge about the environment, history, traditions, and spirituality of these communities, and provide connections between generations.
For many communities, music and language are intertwined, with specific songs, dances and musical traditions passing on knowledge, stories and cultural practices from generation to generation.
Creation will feature a significant number of songs with Yugambeh language that will contain old and new stories alike.