5 minutes with Soprano Olivia Warburton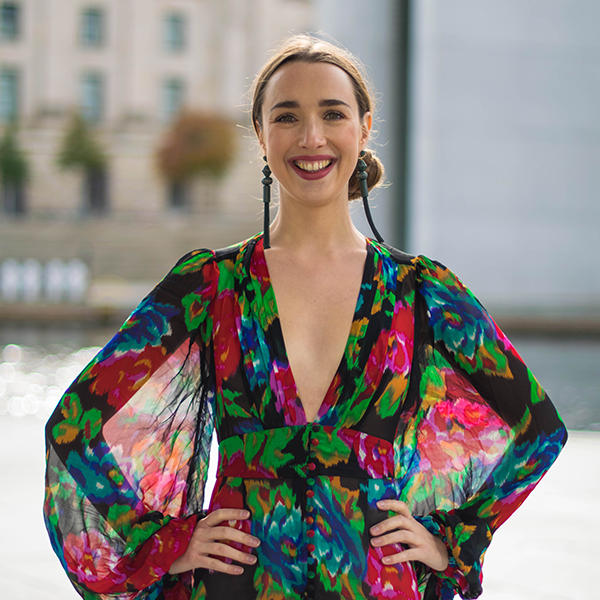 Before Soprano Oliva Warburton takes the stage to perform at Symphony Series 6, take a moment to hear from her as she shares the first time she heard Mahler's 4th Symphony, her biggest source of inspiration, and much more!
Do you come from a musical family? What sparked your passion for music?
I come from a family who have a great appreciation of music and are hugely supportive but I am the first to have forged a career in music. We used to have the 'best of the sixties' CD's on repeat in the car on the way to school and we'd sing along at the top of our voices. At school I was encouraged to audition for Lincoln Cathedral choir where I won a place as a girl chorister aged 10. It was a huge lifestyle change; going from a relatively normal school life, to singing in a very prestigious choir for 20 hours a week over and above my school work. A shock to the system at first but the best musical foundation I could ever have wished for. My music teacher Nick Perry and choir master Aric Prentice immediately noticed my talent and inspired me to have fun singing a range of repertoire from William Byrd to 1920's musical theatre classics!
Who inspires you?
In the classical music world I have been hugely inspired by the mezzo soprano Anne Sofie von Otter; I adore her voice and so admire how she has been able to perform such a variety of repertoire throughout her career whilst maintaining the essence of herself in everything she does.
I am also inspired by the people I meet on my travels. A huge part of the job is travelling and of course at times it can be exhausting and lonely but I still relish those moments on trains or planes, or after a concert where I strike up a conversation with a complete stranger – everyone has a story to tell and hearing other people's stories fills me with inspiration and makes me feel alive!
As a soprano your voice is your instrument, how would you describe it and how do you keep it performance fit?
The fact that each singing voice is totally unique is what makes the human voice so special as an instrument. With that of course brings the challenge of maintaining ones physical, mental and vocal health in order to be able to perform at the highest level. Not an easy task but I try to keep physically fit with yoga and swimming and I vocalise almost every day. I also make sure to keep on top of my learning so I'm sufficiently prepared for upcoming projects and I try to set aside enough time for the things I love doing outside of singing so I can switch off from it mentally.
You are performing Mahler's Symphony No 4.. Do you remember the first time you heard the symphony, where were you and how did it make you feel?
I adore Mahler's music, although I came to it quite late and it wasn't until I was studying at the Royal Academy of Music in London when I really started exploring his music both as a listener and performer. I remember a percussionist friend of mine first playing me the 4th symphony in my London apartment – I was totally blown away. I especially love the 3rd movement which is just indescribably beautiful. And of course the 4th which I think I first heard live in Vienna during a rehearsal with the Vienna Philharmonic, Daniel Harding and Christiane Karg.
You've travelled and performed across the globe – what is distinctive about Australian audiences?
It is actually my Australian debut! I'll let you know afterwards but I am hugely excited.
What is your favourite performance memory as a performer and as an audience member?
It's so difficult to choose but I'd say most recently as a performer, during the winter of 2020 when most places were still locked down, Finn and I had the opportunity to go to Gothenburg in Sweden for a concert featuring a stunning work 'A Mind of Winter' by British composer Sir George Benjamin. No one had really been able to make music together in that sort of setting for months and months and the feeling of being able to sing with an orchestra again was deeply moving.
As an audience member, I would say witnessing the premiere of Thomas Adés' opera The Exterminating Angel at the Salzburg Festival was incredibly exhilarating; it felt like living a small part of music history.
You are engaged to Conductor Finnegan Downie Dear, how frequently do the two of you have the opportunity to work together?
Finn and I met as students at the Royal Academy of Music over 10 years ago. Finn was studying piano at the time so we initially worked on song repertoire together as a duo – in fact one of our first concert projects was a programme celebrating the lives and work of Gustav and Alma Mahler, including a selection of their letters which where read by Finn's mother, Australian-born actress Penny Downie. Over the years we have collaborated on various projects, both with Finn at the piano and on the podium. It doesn't happen all that frequently but it is always incredibly special when we have the opportunity to travel and perform together.
When you are not on stage performing or practicing where can we find you?
You'll probably find me in a local restaurant or at home trying out a new recipe – I love cooking…and eating! I also try to make as much time as possible to catch up with friends and family. Other hobbies include yoga, reading and visual art. During lockdown I read an incredible book on natural ink making which delved into the history of ink making and the science of distilling pigment from the natural world. I still enjoy foraging and ink making when I have the time.