Adelaide Symphony Orchestra set to tour to China and South Korea next month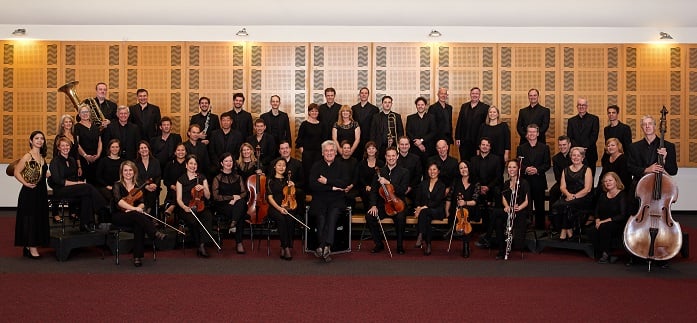 For immediate release – Tuesday 10 September, 2019
More than 20 years after its ground-breaking Asian tour, the Adelaide Symphony Orchestra (ASO) is set to take 66 musicians to China and South Korea in October 2019.
Premier Steven Marshall said: "The ASO is South Australia's largest performing arts organisation and, led by its Artist-in-Association, the legendary violinist and conductor Pinchas Zukerman, will join an elite group of the world's leading orchestras when it performs at the prestigious Beijing Music Festival and the Shanghai International Arts Festival."
Of special significance is the ASO's inaugural visit to two other spectacular venues: the Tongyeong Concert Hall (South Korea), Adelaide's sister UNESCO City of Music's premier music centre; and the recently-opened, futuristic Zhuhai Opera House in China's Pearl River Delta.
Vincent Ciccarello, Managing Director says: "We're delighted to be flying the flag for SA arts and culture on the world stage by taking 66 musicians and our Artist in Association to China and South Korea. The tour will strengthen the ASO's profile by showcasing our talented musicians internationally there by building bridges, making connections and drawing together a diversity of people through music. We will strengthen the people-to-people relationships that we've been cultivating for several years in the region. We are also looking forward to performing in a range of stunning concert halls."
Pinchas Zukerman, ASO Artist in Association said: "I've been performing in China since 1995 and have seen how classical and orchestral music have undergone remarkable growth, with not only an investment in cultural infrastructure but also in symphony orchestras and schools of music. Literally millions of young Chinese are engaged in the study of a classical musical instrument. It will be a real joy to lead the fantastic Adelaide Symphony Orchestra in these concerts and use our music-making as a platform to cultivate mutual respect, cultural awareness and people-to-people connections."
Laura Tyler, BHP Asset President Olympic Dam declared: "BHP is proud to support the Adelaide Symphony Orchestra's tour of China and South Korea. This great event will showcase the ASO's enormous talent on the international stage. BHP is a proud supporter of the arts as we know the valuable role they play in our society and in promoting cross-cultural connections that complement and support our relationships with important economic partners such as China and Korea."
Since 2016 the ASO has been deepening its engagement with China through:
Jinan, April 2016. As part of the celebrations marking the 30-year sister state relationship between South Australia and China's Shandong Province, and as part of the SA Government delegation, ASO Concertmaster Natsuko Yoshimoto and Principal French Horn Adrian Uren travelled to Jinan, the Province's capital. Ms Yoshimoto and Mr Uren spent an intensive week working with their colleagues in the Shandong Symphony Orchestra, mentoring them and leading rehearsals and workshops. They also featured as guest soloists, each performing a solo concerto with the orchestra in the Lishan Theatre.
Shanghai, May 2017. Members of the ASO performed a specially-commissioned fanfare on the ground of Jiangwan Stadium as part of the pre-match festivities for the first-ever AFL football match played in China for premiership points between Port Adelaide Football Club and the Gold Coast Suns. The performance featured drummers from the Shanghai Empireast Culture Group – a relationship developed as part of this special initiative. The fanfare was pre-recorded in the studios of ABC Collinswood.
Harbin, August 2018 The ASO was invited by the Foreign and Overseas Chinese Affairs Office in Harbin, China, to perform the ASO's own children program, The Bush Concert, in Mandarin.
An ensemble of eight musicians from the ASO gave four performances of this piece to Chinese school children. The piece is based on the much-loved children's picture book by author Helga Visser, in which Australian native birds come together to stage a concert to cheer up the community which is despondent due to a drought. The presenter, Susan Ferguson, learnt to deliver the concert in Mandarin, which delighted audiences!
Chinese New Year Concert, Festival Theatre, Feb 2018 & Feb 2019. The ASO partnered with Adelaide Festival Centre to present these concerts to Adelaide audiences.
In Season 2020, the ASO will present The Bush Concert in Mandarin in the Grainger Studio to coincide with Chinese New Year, 1 February, Grainger Studio.
The 2019 international tour is made possible through the generous support of the SA Government, Major Sponsor BHP, the Federal Government via the Australia-Korea Foundation, and donors: Didy McLaurin, Robert Kenrick, Joan Lyons, Peter & Pamela McKee, Dimos Foundation, Leonie Schmidt and Michael Davis AO and two anonymous donors.
CHINA/ SOUTH KOREA TOUR              
Fri 18 October
Zhuhai, China
Zhuhai Opera House
Sun 20 October
Shanghai, China
Shanghai International Arts Festival
Outdoor concert Afternoon & Shanghai Symphony Hall Evening
Tues 22 October
Beijing, China
Beijing Music Festival
Fri 25 October
Beijing, China
Tongyeong Concert Hall
Schools Concert Morning & Evening concert
Conductor Pinchas Zukerman
| | |
| --- | --- |
| Program CHINA Beethoven – Egmont: Overture Mozart – Violin Concerto No. 5 'Turkish' Elgar – Enigma Variations | KOREA Beethoven – Egmont: Overture Mozart – Piano Concerto No 17 in G (K.453) Michel Béroff, piano Elgar – Enigma Variations |
MEDIA ENQUIRIES:
Cheree McEwin, Publicist Adelaide Symphony Orchestra
08 8233 6205 / 0416 181 679 / mcewinc@aso.com.au