ASO's groundbreaking Virtual Reality Orchestra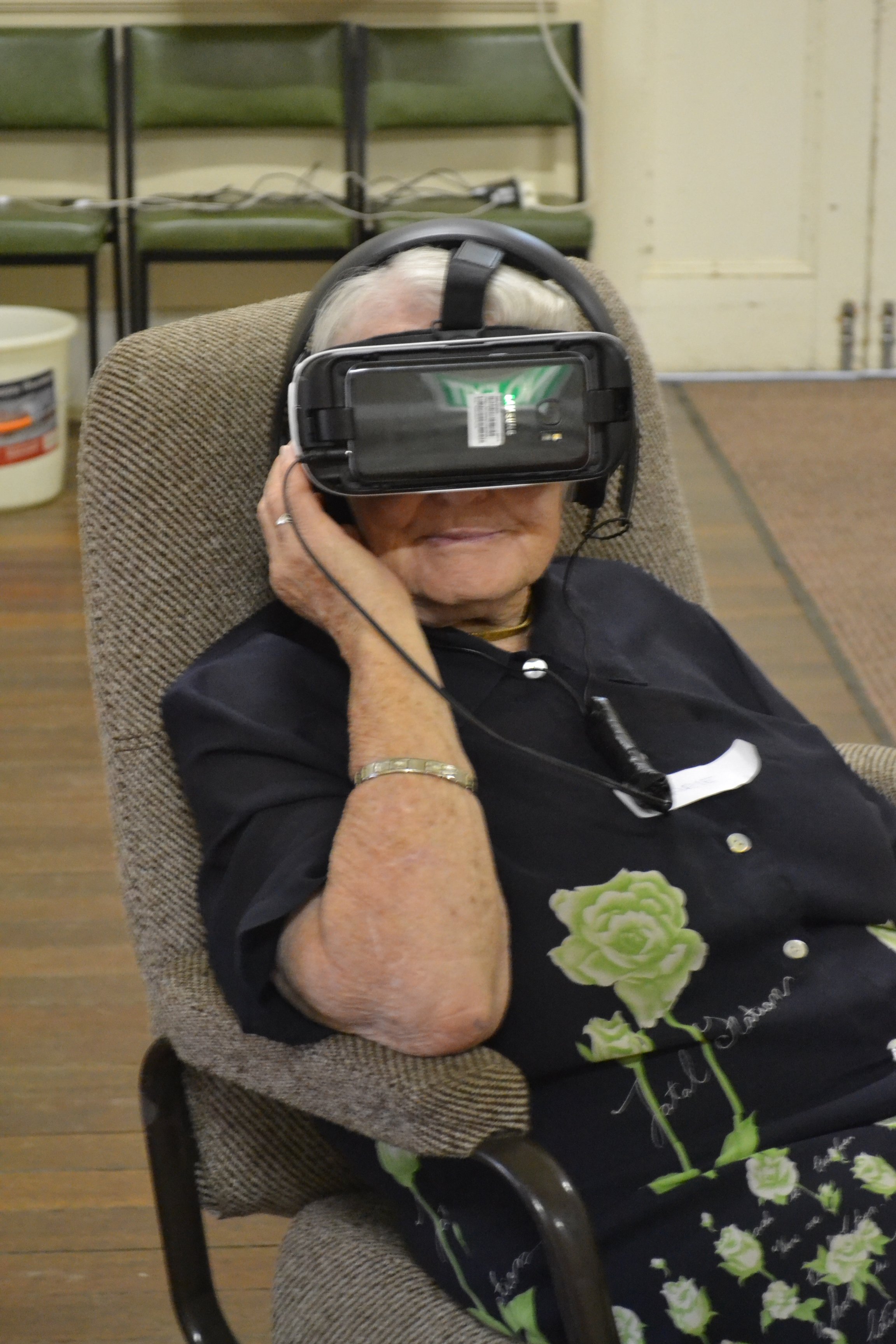 Adelaide Symphony Orchestra's exciting ENCORE in VR (Virtual Reality) project is breaking ground by providing an orchestral experience outside of a concert direct to South Australians through 14 community centres across metropolitan Adelaide, Mid-North and the Southern Yorke Peninsula.
Using a revolutionary new multi-camera recording process, this innovative digital project is part of the ASO's world-leading partnership with Adelaide-based company Jumpgate Virtual Reality who first captured this footage during the ASO's Classics Unwrapped concert at the Adelaide Town Hall in May 2015 using a small camera tree comprising 16 GoPro cameras.
Participants wear a set of earphones and a headset that supports a smartphone for this totally immersive experience. The viewer will hear and see the music as if sitting in the middle of the orchestra, and can swivel through 360 degrees to view any musician or section as they play their music.
Once participants have viewed the footage, they will then be invited to have a conversation about the music over refreshments with volunteers creating a lovely moment of social connection within our community.
Adelaide Symphony Orchestra Managing Director Vincent Cicarello said: "The ASO is committed to providing access to all South Australians to experience the orchestra. There are many South Australians who for a variety of reasons are unable to attend a live concert of the ASO. This project will take the orchestra to them and give older members of the community the ability to overcome social isolation by combining new virtual reality technology with their love of music and the ASO."
Mr Ciccarello said the state-of-the-art technology had potential beyond concert performances.
"The technology has enormous potential for music education, with students right across Australia to be able to experience all aspects of a concert through the headsets, while at the same time being directed to pay attention to particular features such as individual instruments or themes.
"We see it as an opportunity to introduce people to the world of orchestral music mediated by the latest technology. Given that technology is playing such an important role in the delivery of all forms of entertainment, we want to embrace that," he said.
The project is viable thanks to a Positive Ageing Grant from the Office for the Ageing (OTA) received in 2017.
In 2015, as part of a week-long display at the headquarters of then ASO Principal Partner Santos in June and subsequent demonstrations at the Adelaide Film Festival in October, audiences had the chance to test this incredible technology.
Mr Ciccarello said the response from the general public was overwhelming.
"One ASO subscriber adored the experience – and even brought a copy of the score to read after she enjoyed the 'virtual' ASO concert," he said.
"It's quite a mind-blowing experience, being able to actually be a part of the orchestra, seemingly a member of the orchestra with the violins to one side, woodwind behind you, and then the brass and double basses and cellos to the left of you.
"To be able to hear it in surround sound through headphones, you really feel like you're in the middle of it. It takes you out of your everyday and disrupts your world view, momentarily.
"We're hoping it'll give a much deeper, more immersive experience for people who perhaps have already dabbled in orchestral music but just want to enhance that experience."
Jumpgate VR Managing Director Anton Andreacchio said, "It's been fantastic working with the ASO as there is a real interest in using virtual reality to reach new audiences and create unique experiences. Right from the start they saw the value of the technology and we're excited for what lies ahead".
Participating community centres include:
15 February Southern Yorke Peninsula Community Telecentre, 8852 1820
19 February Torrens Valley Community Centre, 8389 1711
Pooraka Farm Community Centre, 8406 8488
23 February Kilburn Community Centre, 8405 6730
Adelaide South West Community Centre 8203 7863
27 February Robertstown War Memorial Communcity Centre, 8581 7209
28 February Summit Community Centre (Norton Summit), 8390 0457
LHI Retirement Services
2 March Bower Cottages Community Centre (Semaphore Park), 8408 1395
Box Factory Community Centre (Adelaide), 8203 7749
8 March Camden Community Centre, 8376 0022
Jubilee Community Centre (Wynn Vale), 8379 7422
9 March Payneham Community Centre, 8366 4640
Wakefield House Positive Ageing Centre (Morphett Vale), 8384 6158
For more information about ENCORE in VR contact ASO Project Co-ordinator Alison Campbell CampbellA@aso.com.au
MEDIA ENQUIRIES:
Cheree McEwin, Publicist, Adelaide Symphony Orchestra
08 8233 6205 / 0416 181 679 / mcewinc@aso.com.au