From Dust to Drumroll: Andrew Penrose's Inspiring Tale of Classical Timpani Restoration
25 May 2023
Musician Spotlight
Uncategorised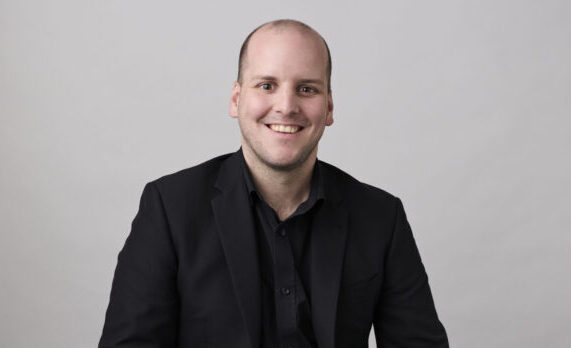 Inspired by the need for a set of timpani that would embody the true essence of the Classical Period, ASO's Principal Timpani Penrose embarked on a mission to breathe life into a set of timpani last played in the 1960s. In this fascinating chat, Andrew delved into the journey of rediscovering and restoring these classical timpani, shedding light on the unique challenges faced and the significance of preserving classical instruments.
What inspired you to restore these classical timpani, and how did you go about finding them?
The orchestra has needed a set of timpani that would sound truer to the Classical Period style, a request often made by conductors for works of Handel, Haydn, Mozart and Beethoven, among others.
What conductors want is a less encompassing boom, like one of the big modern drums, but a loud and articulate strike with lower volume ringing noise. These drums seemed to be a good candidate because of their smaller size.
They were left in storage at the Elder Conservatorium of Music, and probably hadn't been played since the 1960s. Through catalogue research I discovered that these drums must have been made between 1930 and 1938. They were unplayable when they were pulled out of storage in 2009, and had sat unused in the percussion suite since.
Can you walk us through the restoration process of the timpani, and what challenges did you face?
The restoration process starts by completely disassembling the drum. Removing all parts from each other, down to nuts and screws. Then they needed to be scrubbed clean with brushes. There was considerable rust on some of the parts, so I used electrolysis rust removal to thoroughly clean them. Following that, the parts were nickel plated. One of my challenges was learning how to properly nickel plate steel. Other minor adjustments were made, such as adding castor wheels to ease movement.
The biggest change involved how the drum functions. The technical phrasing would be, "converted a counterhoop system to a clamp system". We engaged the services of a local engineering firm to manufacture two brand new stainless steel "flesh hoops". On these hoops we lap the natural calf vellum, which is what the timpanist strikes when playing the drums.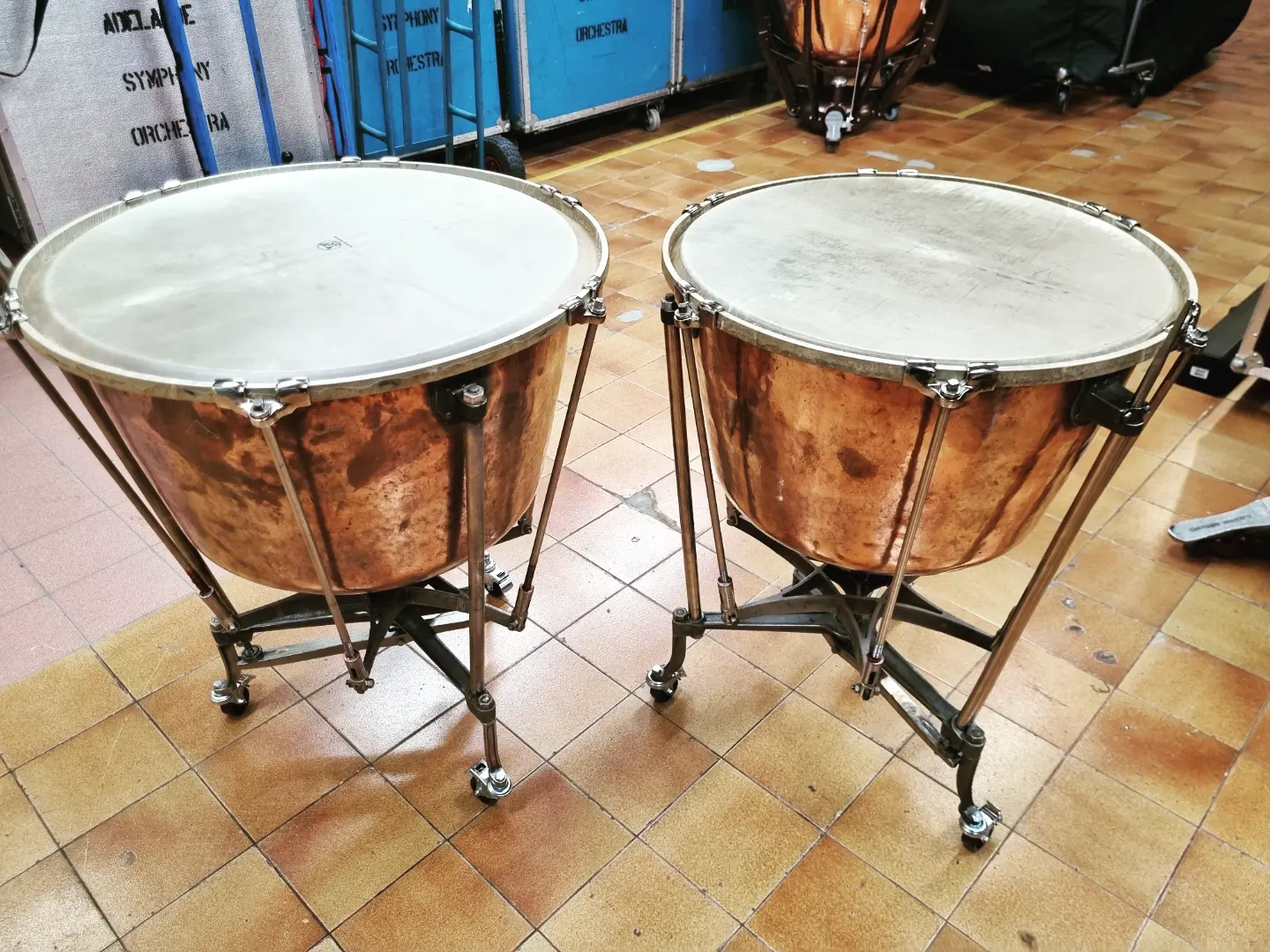 Attached onto this hoop are 6 clamps, which then attach themselves via long tension rods to the drums' tuning mechnaism. When the timpanist winds the tuning hand crank clockwise, the mechanism pulls the tension rods down, which stretches the skin and raises the pitch.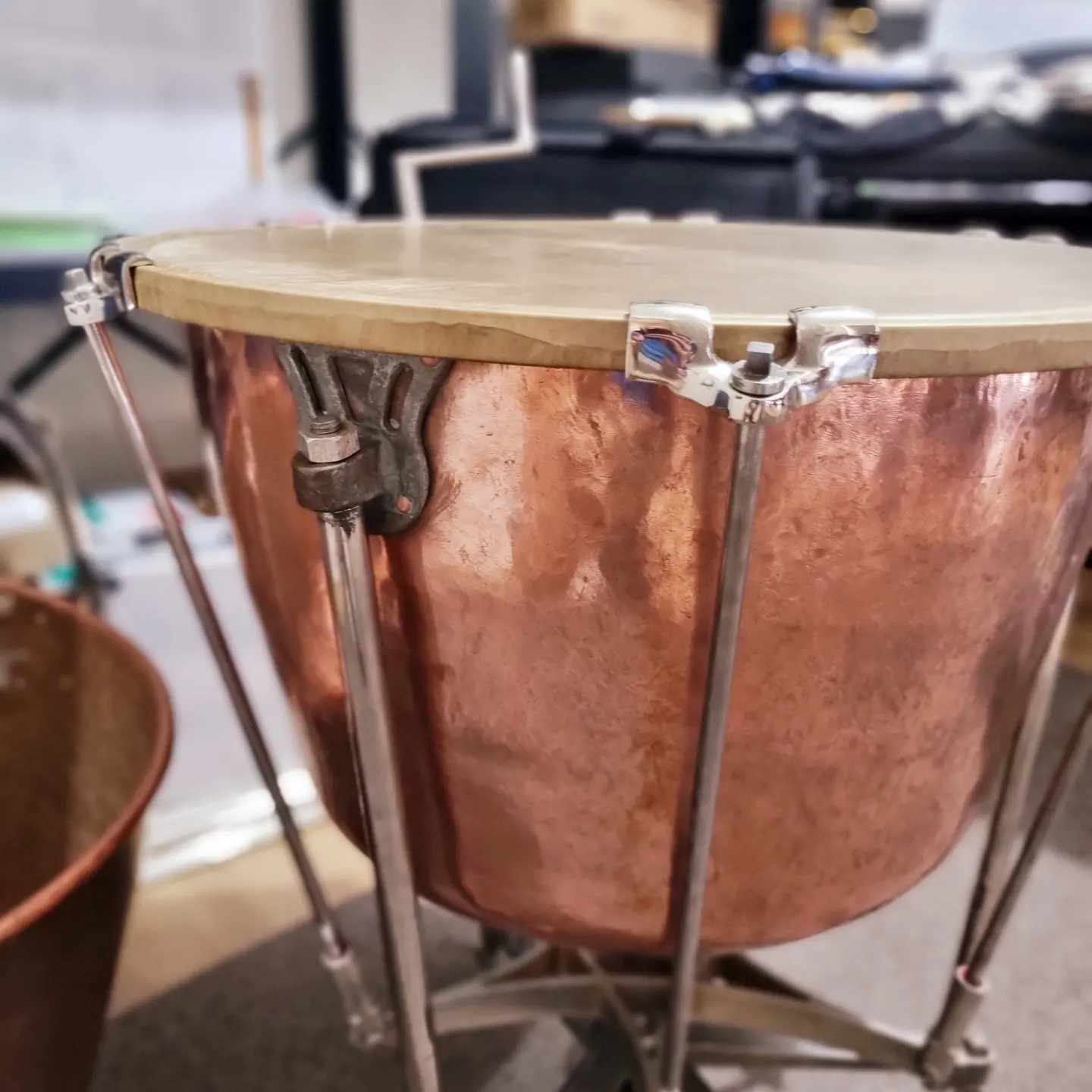 What is unique about these particular timpani, and how do they differ from modern-day timpani?
The largest difference is that they are hand tuned, as modern timpani use foot pedal tuning systems. Secondly, while modern timpani have an indicator that signal what pitch the drum is tuned to, these drums rely solely on the timpanists ear, as no gauge is attached.
But the most important difference is that they are smaller in size. Compared to modern drums, they're roughly 20% smaller in diameter and bowl size. 
How important do you think it is to preserve and restore classical instruments, and why?
If they can still bring joy to people through their use in performance, we should absolutely be preserving them for as long as we can. But it also gives us insight into what kind of instruments Mozart or Beethoven were writing for.
What are the plans for the future of this restored timpani, and will it be used in future performances?
These drums, while owned by the Conservatorium, will be loaned to the ASO for me to use in suitable concerts. Because of their smaller size, they would be my default choice for any music written before 1830. That includes the music of Mozart, Beethoven, Bach, Handel, and others.
Are there any other classical instruments you are interested in restoring in the future? If so, which ones and why?
YES! I have a xylophone made pre-1920 that makes an absolutely beautiful sound, but needs to be tuned desperately. It also suffers from deterioration and poor mobility. Looks like my hobby is taken care of.