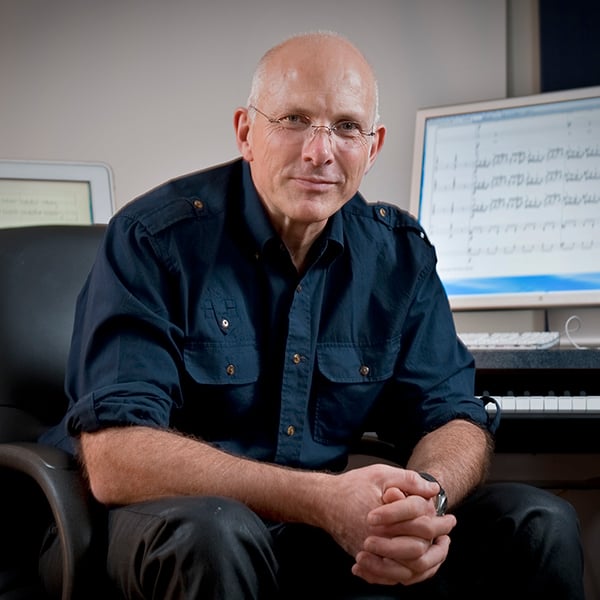 Nigel's career, spanning over 4 decades, began as a clarinettist touring Australia and the world with many ensembles.
From 1987-1992 he was a core member of the Australia Ensemble [resident at UNSW] and in 1992 was invited by guitarist John Williams to join his septet Attacca  as performer and composer.
He began composing from 1980, receiving offers to write for radio, theatre, circus, TV and film and was appointed composer in residence for ABC Radio National in 1984.
His film credits include Ali's Wedding, Paper Planes, Miss Potter, Babe, Babe II, Children of the Revolution and the IMAX films Antarctica, Solarmax, The Edge and Imagine among numerous others.
His television credits include numerous documentaries, telemovies, news themes and station idents.
He writes extensively for the concert hall, receiving commissions to write for orchestras, ensembles and soloists and has received many awards including 2 ARIA Awards, 15 APRA awards across both classical and screen categories & the Gold Medal for "Best Original Music" at the New York International Radio Festival.
He is a two time winner of the presitigious Paul Lowin Orchestral prize, in 2013 for Missa Solis – Requiem for Eli and in 2019 for Spirit of the Wild – Concerto for oboe and orchestra.
He has conducted all the major symphony orchestras in Australia in performances and recordings of his own works, and in 2016 made his US conducting debut at the Lincoln Centre with the New York Philharmonic and his European debut with the RTE Symphony at the National Concert Hall in Dublin in 2018.
He holds an honorary doctorate awarded in 2013 by the University of NSW and was the recipient of the HC Coombs Creative Arts Fellowship at the Australian National University in 2004.
In 2008 he founded the Smugglers of Light Foundation with his family in memory of his son Eli.