Reaching the Regions – Silos & Symphonies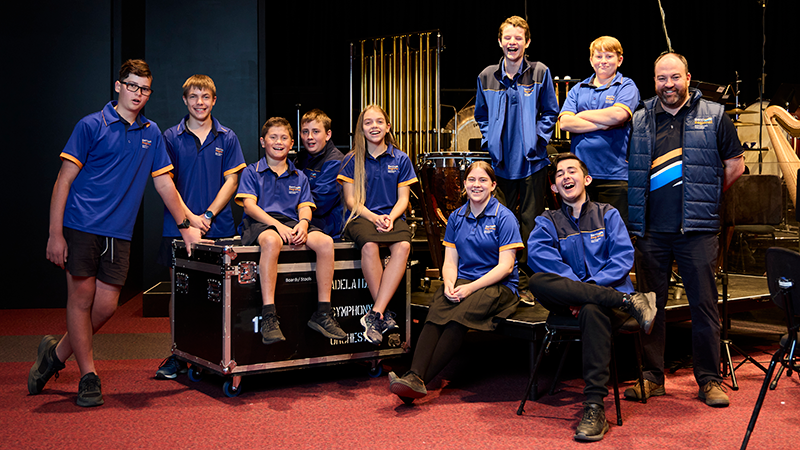 The ASO has continued to expand its pioneering regional education program Silos & Symphonies, which provides secondary school students the incredible opportunity to collaboratively compose an orchestral work to be played by the ASO.
Berri Regional Secondary College participated in the program in 2022. Students engaged in workshops with composers Belinda Gehlert and Julian Ferraretto, together with Robert Taylor, a Ngarrindjeri, Nganguraku, Kaurna and Narungga man, to co-compose an orchestral work connected with the cultural heritage of the region. The resulting work, Ponde, was inspired by the ancestral Ngurunderi Dreaming story as retold by Robert. The title refers to the giant Murray River Cod which Ngurunderi chased in his canoe trying to spear the giant fish as its enormous tail thrashed and widened the river. We spoke with Brenden Baldock of Berri Regional Secondary College about the students' experience.
How did the students respond to Robert sharing his cultural stories?
For some of our students, this was the first time they had heard the story of Ngurunderi. They gained a deeper understanding of the important connections that exist between the river, land, sky and identity. As they listened, they also imagined what sounds and music might accompany the stories.
How did Robert inspire the students to develop their own connections to the region?
As Robert shared the story, students imagined themselves at the locations he was telling us about. They have their own memories of meeting with family and friends by the river for sports or recreation. The river is so important to our community. The sounds they imagined were evident in the rhythms, melodies and soundscapes they later created with their instruments. When students heard the final composition, they recognised motifs they had played. The final piece was a collection of their stories and Robert's stories woven into a musical celebration of our community.
What did the students enjoy about working with composers Belinda and Julian?
It was great for our students to learn that musicians and composers are people, just like them. After initial apprehension, the students discovered that Julian was approachable, friendly and keen to hear their ideas. Students enjoyed the hands-on workshop where all ideas were valued and even 'mistakes' could be turned into something creatively beautiful.
How did the students respond to hearing their music played by the ASO?
Being able to attend an ASO rehearsal to hear our music being played by world-class musicians was a very big deal
for our students. They were amazed by the incredible sound of the ASO. To hear the musical ideas that they had created
in a workshop come to life and be played so sensitively by the ASO's musicians was something the students will never forget. They could hear the story coming through in the music that they had help to produce. There aren't many students who can listen to a performance by the ASO and say, "I helped write that!"
Why is participating in this project important for Berri Regional Secondary College?
For students to co-write a piece of music to be played, not on an app, but by a live orchestra is amazing. Our students were reminded that music is for everyone. They will be talking about this opportunity for years to come and it may inspire them to pursue music for longer, with more vigour, and perhaps even consider it as a career pathway.
Support Music Education
As a not-for-profit organisation, we rely on the support of people like you to help us bring music to children of all backgrounds across South Australia.
Your donation will enable more children to experience the ASO's transformative Learning Programs by helping us remove cost barriers for schools and families, reach those in remote areas, and tailor programs for children with diverse needs.
With thanks to our Silos & Symphonies partners