Renowned singer-songwriter Ben Folds to tour nationally with leading Australian orchestras in 2020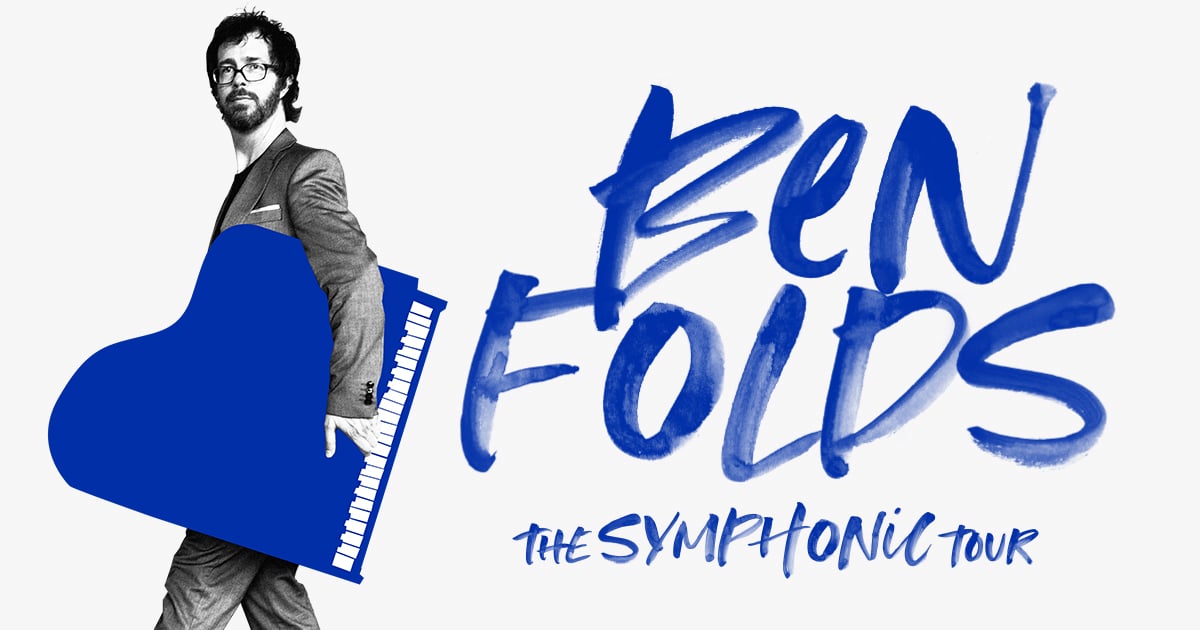 Ben Folds – The Symphonic Tour
National dates
6-7 March – Sydney Symphony Orchestra – Sydney Town Hall
11-12 March – Queensland Symphony Orchestra – QPAC Concert Hall
16-17 March – West Australian Symphony Orchestra – Perth Concert Hall
19 March – Adelaide Symphony Orchestra – Thebarton Theatre
22 March – Melbourne Symphony Orchestra – Plenary, Melbourne Convention and Exhibition Centre
Tuesday 20 August, 2019 – Renowned American singer-songwriter Ben Folds will join Australia's leading orchestras in a national tour from 6-22 March, 2020.
In eight performances, the acclaimed artist will perform his best known works in collaboration with the Sydney Symphony Orchestra (6-7 March), the Queensland Symphony Orchestra (11-12 March), West Australian Symphony Orchestra (16-17 March), Adelaide Symphony Orchestra (19 March) and Melbourne Symphony Orchestra (22 March).
Known for his musical versatility across the pop and classical genres, Folds has travelled the globe performing with some of the world's best orchestras for over a decade.
"I grew up playing in orchestras, so being on stage with one feels like home to me," Folds said.
"In these concerts, the orchestra is my band. When I perform with an orchestra, I tell audiences that I'm expressing myself through a different form than what they have come to expect in a rock show, a form that happens to be done by people who are among the best musicians on the planet and who do it all the time."
Over the years, Folds has created an enormous body of genre-crossing music that includes pop albums with Ben Folds Five, multiple solo albums, numerous collaborations, and an album that featured his Concerto for Piano and Orchestra, which soared to number one in the United States on both the Billboard Classical and Classical Crossover charts.
In 2014, the multi-platinum selling artist joined with Adelaide Symphony Orchestra in a performance which included a live improvisation on stage with the full orchestra.
Folds, who currently serves as the first ever Artistic Advisor to the National Symphony Orchestra at the Kennedy Center in Washington, DC, recently released his first book, a critically-acclaimed memoir entitled "A Dream About Lightning Bugs" which debuted in its first week as a New York Times Best Seller. It's a collection of interrelated essays, anecdotes and what Folds calls "cheap lessons" about art, life, and music.
In 2020, Folds will return to perform with Adelaide Symphony Orchestra on Thursday 19 March conducted by Nicholas Buc. The collaboration with Ben Folds is the latest in the Adelaide Symphony Showcase series, allowing audiences to experience music with the Orchestra in new ways. The series has featured artists such as Hilltop Hoods, The Angels and Lior. Through performances such as the Harry Potter Film Concert Series and Star Wars in Concert Series, audiences have had the opportunity to experience hit movies screened with a full symphony orchestra onstage playing the film score live.
Tickets forBen Folds – The Symphonic Tour with the Adelaide Symphony Orchestra are available on www.aso.com.au or Adelaide Symphony Orchestra Box Office on (08) 8233 6233.
Booking Information – Ben Folds – The Symphonic Tour
Adelaide Symphony Orchestra performance:
| | |
| --- | --- |
| Tickets on sale: | 10.30am Tuesday 20 August |
| Dates: | Thursday 19 March, 2020 |
| Venue: | Thebarton Theatre |
| Prices: | Tickets from: $59, concessions available |
| Bookings: | www.aso.com.au or Adelaide Symphony Orchestra Box Office on (08) 8233 6233 |
Full national tour details – Ben Folds – The Symphonic Tour:
Sydney
Sydney Symphony Orchestra

Sydney Town Hall

Friday 6 March, 2020
Saturday 7 March, 2020
Brisbane
Queensland Symphony Orchestra

QPAC Concert Hall

Wednesday 11 March, 2020
Thursday 12 March, 2020
Western Australia
West Australian Symphony Orchestra

Perth Concert Hall

Monday 16 March, 2020
Tuesday 17 March, 2020
South Australia
Adelaide Symphony Orchestra

Thebarton Theatre

Thursday 19 March, 2020
Victoria
Melbourne Symphony Orchestra
The Plenary, Melbourne Convention and Exhibition Centre
Sunday 22 March, 2020
For interviews, photos or further information, please contact:
Cheree McEwin, Publicist Adelaide Symphony Orchestra
08 8233 6205 / 0416 181 679 / mcewinc@aso.com.au