"The Studio: 54 Reasons to Party" – ASO to play that funky music
Adelaide Symphony Orchestra will have you dancin', and singin' and movin' to the groovin' in their newly commissioned Showcase Series concert The Studio: 54 Reasons to Party 29 and 30 June, Festival Theatre.
The Festival Theatre will become the 'best disco in town' as it's transformed into The Studio: 54 Reasons to Party. ASO in association with Adelaide Festival Centre presents a Release Creative production, recreating the legendary New York nightclub, renowned for its celebrity guest list and hypnotic atmosphere: Studio 54.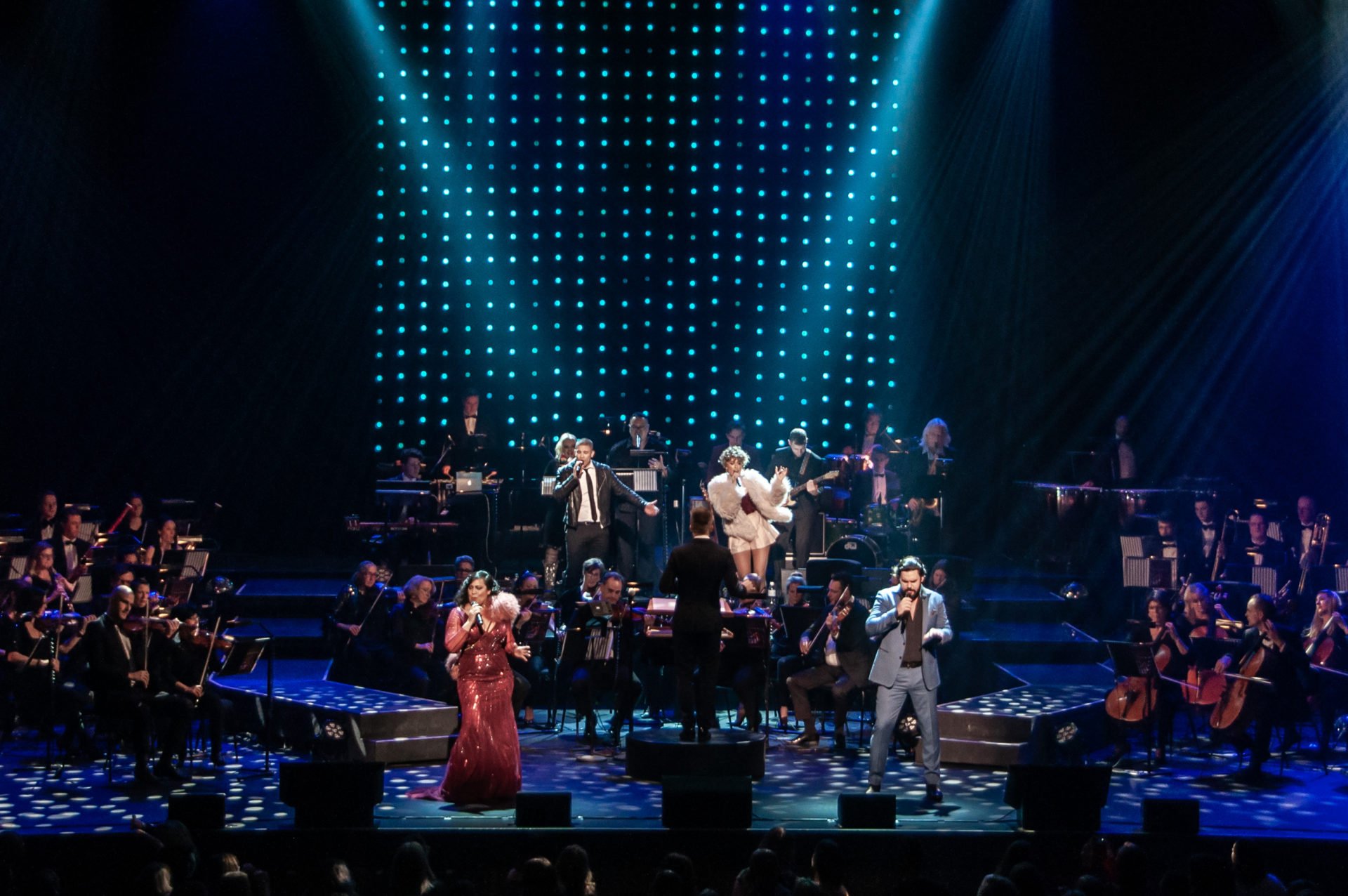 Under creative direction from Zac Tyler (Release Creative) andmusical supervision from Vanessa Scammell, the orchestra will be joined on stage by a local band and backing singers supporting a stellar line up of special guest vocalists. Led by Australia's high priestess of pop, award winning singer and songwriter Kate Ceberano whose talent can take a tune to the top of the charts. 24 albums over 30 years makes Ceberano the most prolific Australian female recording artist of this era.
Kate Ceberano is excited about how the orchestra will elevate the disco tracks and says, "I was practically breastfed on disco…so I can't wait to return to my true musical roots in this show with these great artists and your stunning Adelaide orchestra. I'm a singer today because I grew up listening to my idols like Donna Summer, Gloria Gaynor, The Jacksons and Diana Ross. What a joyous era of talent, music, fashion and dance moves…we can't wait to throw one hell of a party!".
Ceberano will be joined on stage by legendary Australian pop and rock artist Doug Parkinson.You know that old saying about the '60s? That if you can remember them, then you couldn't have been there? Well, Doug Parkinson was most definitely there. Five time platinum award winning artist Nathaniel Willemse best known for his up-tempo funk hit 'Live Louder' will bring some soul to the line-up and possibly the hustle. Amy Lehpamer completes the soloists. Lehpamer who captured the look, heart and soul of Dusty Springfield in the musical DUSTY is perfectly set to bring glamour and stunning vocals to The Studio.
Lehpamer says, ""What's not to love about disco? Full throttle vocals, heart-felt emotion and a beat you can't NOT dance to. It's my chance to live in the 70s and I cannot wait!"
One of Willemse's favourite disco tracks is Earth Wind and Fire's 'Let's Groove Tonight, he says, "I always say I was born in the wrong era because I'm so in love with the 'old sound'. My parents constantly played that music which rubbed off onto me. Soul/Funk/Disco music is so close to home for me which built the foundations of my music and artistry today! Performing with a mega band is always much more electrifying than not. Everything is so raw, organic and real! Performing with the Adelaide Symphony Orchestra will really bring this gig to life, it's going to be incredible. I'm counting down the days already!".
This stellar cast will celebrate the electrifying music from artists like Michael Jackson, the Bee Gees, Earth Wind and Fire, through to Sister Sledge's We are Family and Gloria Gaynor's I will Survive, with Tyler promising it to be an "energy packed show featuring spectacular performances, music, sound and lighting all aimed to get people off their seats and back to the glamour, and grit, of the 70's dancefloors."
Don't miss this tribute to disco, in full symphonic sound.
Adelaide Symphony Orchestra Managing Director Vincent Ciccarello said, "ASO's Showcase Series has something for everyone. Disco lovers will delight in The Studio, and for those who like to boogie, you'll be able to purchase seats with access to a dance floor in front of the Festival Theatres Stage! Let the orchestra take you back to the days when Stayin' Alive ruled supreme and the disco ball had you mesmerised in an intoxicating psychedelic haze. It will be a fun night which the whole family can enjoy".
The ASO is a world-class symphony orchestra, in addition to presenting classic repertoire the orchestra has a reputation for its versatility in its Showcase Series of concerts that embraces popular contemporary music, adding pow to pop, while soundscapes burst beyond the cinema screen and disco dance anthems swell to their fullest glory. Don't miss the first exciting concert in the series for 2018.
SHOWCASE SERIES The Studio: 54 Reasons to Party
Friday 29 & Saturday 30 June, 7.30pm, Festival Theatre
Special guests Kate Ceberano
Doug Parkinson
Amy Lehpamer
Nathaniel Willemse
Director/Producer Zac Tyler (Release Creative)
Musical Supervisor Vanessa Scammell
Producer Ruth Blythman (Release Creative)
Production Management/Design Richard Dinnen (Megafun)


MEDIA ENQUIRIES:
Cheree McEwin, Publicist, Adelaide Symphony Orchestra
08 8233 6205 / 0416 181 679 / mcewinc@aso.com.au