2020 Finale for Natsuko Yoshimoto as Adelaide Symphony Orchestra Concertmaster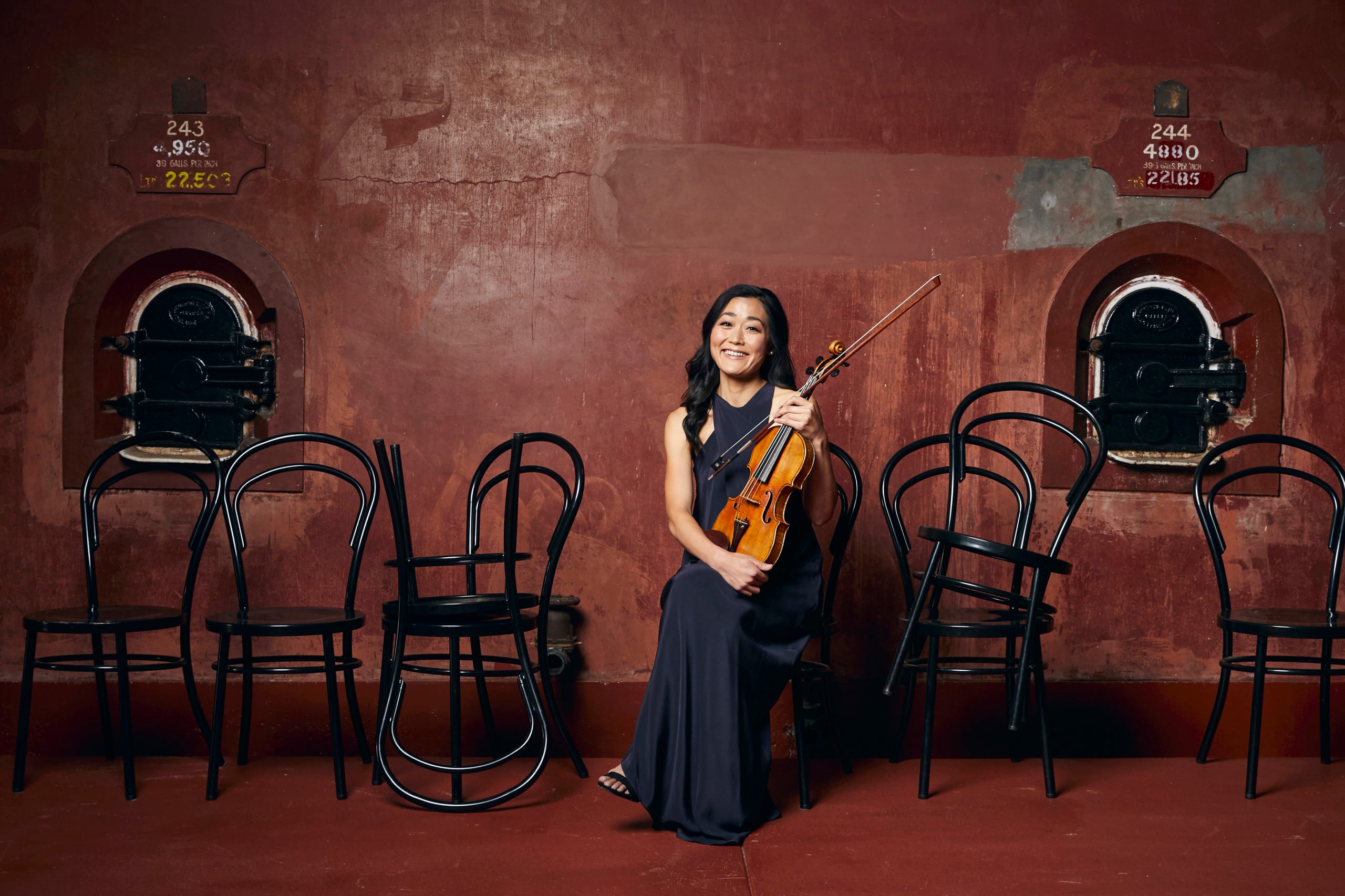 Natsuko Yoshimoto will perform her final concert as Concertmaster of the Adelaide Symphony Orchestra on 31 October 2020.
It will be the end of Natsuko's musical journey with the ASO after more than a decade as Concertmaster. She is moving on from the role and is looking forward to other musical pursuits; being able to freelance as an orchestral, chamber and solo performer, as well as teaching and being able to spend time with her family.
Natsuko is one of the finest violinists in Australia, and has been a tremendous asset to Adelaide.
ASO's Managing Director Vincent Ciccarello says, "Over the past 10 years, the ASO has demonstrated great artistic vitality and quality – and Natsuko Yoshimoto has played a significant role in our success.
"Natsuko is a consummate professional and brings the highest standards of playing, dedication and integrity to the ASO. She not only enjoys the admiration and respect of her colleagues, but her great charm and charisma make her much-loved by our audiences.
"We look forward to a wonderful year of concerts with Natsuko in her final year as Concertmaster. Audiences are in for a treat when she takes to the stage in April in Master Series 2 to perform Brahms' Violin Concerto.
"We wish her every success and happiness as she goes on to this next phase of her stellar career. She'll be sorely missed but we look forward to welcoming her back in the future as a guest performer with the orchestra."
Former ASO Principal Conductor Nicholas Carter says, "Natsuko is a formidable musician and wonderful colleague whose ambition for the ASO is always at the heart of what drives her".
Natsuko Yoshimoto was born in Japan and began playing the violin at the age of three, before going on to study at the Yehudi Menuhin School and the Royal Northern College of Music in England, and at the Curtis Institute of Music in Philadelphia. She received direct guidance and teaching under Yehudi Menuhin and Wen Zhou Li.
She has won many awards and prizes in international competitions including the Gold Medal in both the prestigious Shell/London Symphony Orchestra Competition and the Orchestra Ensemble Kanazawa Award. In 2007, Natsuko was presented with the Iwaki Award for outstanding achievement as a Japanese artist.
During her time with the ASO, Natsuko has performed hundreds of concerts including many premieres, and worked with leading conductors and soloists from around the world.
Natsuko Yoshimoto said: "It has been an extraordinary honour to lead the ASO as concertmaster, I am grateful for the experience and the musical journey I have undertaken. I have been privileged to have played under some of the world's leading conductors and I look back on my career with the ASO with great affection.
It has been an intense and rewarding 10 years with the ASO and I have enjoyed every minute of it!"
Reflecting on her role as Concertmaster and what she will miss the most she says, "having such an inspiring environment all the time to work in! Of course I have worked with many conductors and soloists who are incredibly inspiring but I'm also always amazed by the talent and skills that my colleagues in the orchestra have. The ASO is full of special people and I have tremendous respect for them and I'm always learning from them!"
I am excited by what's in store for the 2020 season and look forward to continuing to contribute to the artistic vibrancy of the ASO as I undertake my final year in official Concertmaster duties
As she enters her final year as Concertmaster she is respectful of the impact this will have on her she says, "as a performer I treat every concert as if I'm playing the piece for the first and the last time but obviously my final year will feel quite emotional with every concert as it will be the last time that I play these works with this wonderful orchestra."
"I can't wait for the complete Beethoven Symphonies with Mark Wigglesworth, it's not every day that you get to experience such an epic journey like this. I'm also looking forward to celebrating the wonderful history of violin concerti with great variety of amazing soloists such as James Ehnes, Pinchas Zukerman and Grace Clifford."
Don't miss Natsuko as she celebrates the violin in 'Natsuko Plays Brahms', 3 & 4 April, 2020, Adelaide Town Hall.
MEDIA ENQUIRIES:
Cheree McEwin, Publicist Adelaide Symphony Orchestra
08 8233 6205 / 0416 181 679 / mcewinc@aso.com.au
We have put together a selection of concerts that will be led by Natsuko in our 2020 Season so you won't miss the opportunity to farewell this world-class performer in her final year as Concertmaster of your ASO.