2024 Learning Program
Here at the ASO we know the transformative power and
lasting impact of music, and the importance of high-quality, accessible music education. The ASO is delighted to present the 2024 Learning Program, offering a diverse range of musical experiences for children across South Australia.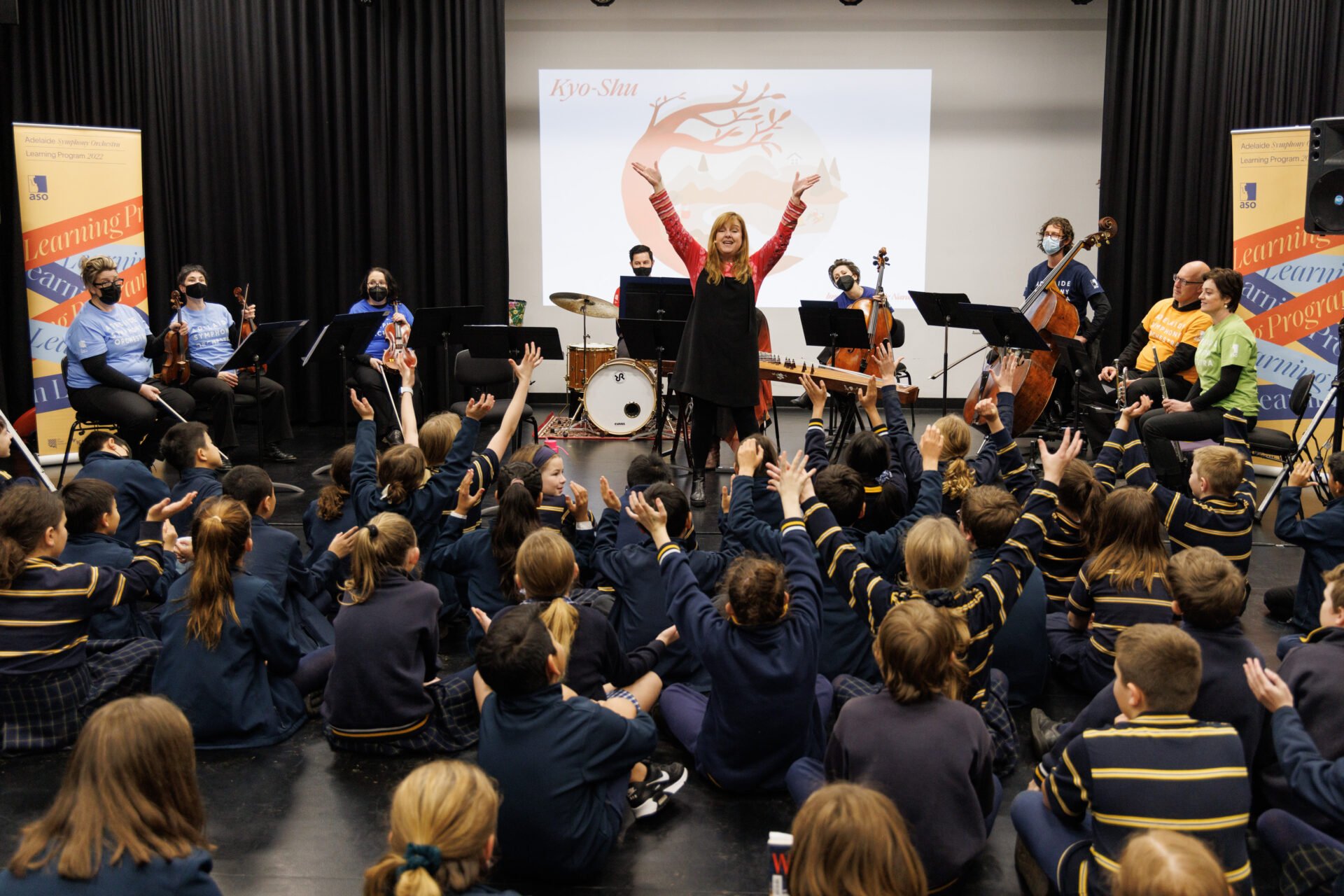 Explore our 2024 Learning Program
How do I book?
All bookings are made online at aso.com.au/learning. Please avoid booking by phone where possible, as we require the additional information captured during online booking.
All school bookings are payable by invoice (for payments by EFT, cheque, credit card) to be paid in full prior to performance.
Please note attendance at related Professional Learning sessions may be compulsory for some programs. These sessions will be automatically added to your online booking if applicable. Teaching resources may be included with the cost of the Professional Learning – please check each event for more information.
For assistance with bookings, please contact the ASO Box Office on aso@aso.com.au or 08 8233 6233 during business hours.
What is the invoicing process?
ASO will invoice you prior to the performance and should be settled within 14 days. This invoice will also include any charge for related professional learning sessions held earlier in the year. If you would prefer to receive your invoice earlier, please contact the ASO Box Office on aso@aso.com.au or 08 8233 6233 during business hours.
How many teachers can we bring?
We understand that each school may have different supervisory needs for attending students, and so will happily provide complimentary tickets for every teacher/adult required to assist with students at an ASO performance.
Bookings online will apply complimentary teacher tickets within the ratio shown below, but if your school has different needs, please discuss with us, quoting your order number so we can alter tickets as required.
R-2 = 1 teacher to every 6 children.
3-7 = 1 teacher to every 10 children.
8-12 = 1 teacher to every 15 children.
Are home schools eligible to attend Learning events?
Yes, we gladly accept bookings for home schools. Tickets are priced in exactly the same manner as other schools, so please check each event listing for further details. Home schools are eligible for 1 comp ticket per 10 students.
Can I bring my school to other concerts outside the Learning Program?
Yes, school groups of six or more students are welcome at all ASO performances at reduced prices (generally the same as advertised package child prices). Please contact the ASO Box Office aso@aso.com.au or 08 8233 6233 during business hours for more information. Please note that we may be unable to offer complimentary teacher ticketing for some events – please confirm at time of enquiry.
More Learning Program FAQs
Contact us
Contact ASO at learning@aso.com.au or 08 8233 6233.
---
Sign up to eNotes
Sign up to eNotes, our fortnightly email newsletter, to learn a little more about what we do, how we do it, and why we do it. Every fortnight, we collate all the most interesting behind the scenes information, blog posts, upcoming activity and ASO insights to share with you!
Support us
We wouldn't be able to do what we do without the generous support of our donors, and there are many ways you can support our endeavours.