5 minutes with ASO's Artist in Association Emily Sun
14 Apr 2023
Meet the Artists
Musician Spotlight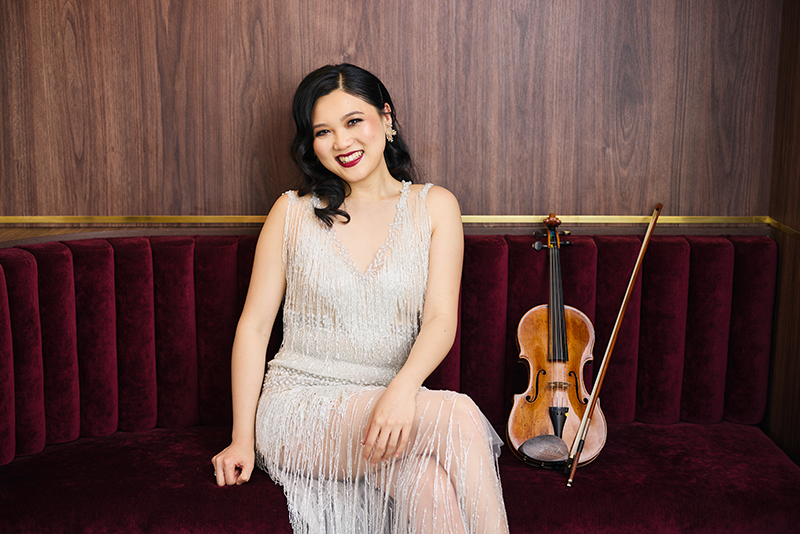 We spoke to ASO's Artist in Association Emily Sun in the lead up to her performance at Symphony Series 2 – Wild this April. Read on to hear from Emily what its like to perform a concerto written just for her!
You have just been appointed as ASO's Artist in Association how does this make you feel?
I am so thrilled to be the ASO Artist in Association for 2023. To be able to deepen the connection with the musicians of the orchestra over several performances over the year; to build the trust with the orchestra in order take real risks in performance, knowing that you are breathing together in unity; it is a real privilege to have the opportunity to explore and push the limits of creativity with the wonderful musicians of the ASO!
Musicians often describe their instruments as an extension of themselves. Do you agree or disagree and why?
I absolutely agree! Without the instrument, as violinists, we don't have a voice. The sound we create is our only form of communication we have with our audiences during performance. Physically, the sensation of the violin tucked so closely under our chin and the contact of fingers on the bow, it must feel as close to an extension of our body as possible – an invisible line between the soul and hands.
Tell us about your violin.
I play on a 1760 Nicolò Gagliano, generously loaned to me by Beares International Violin Society in London. It is a fine example of the Neapolitan tradition and Nicolo's craftsmanship, which were often mistaken for work by Stradivari. The higher registers soar with brilliant clarity, and the lower strings have a dark and rich timbre. I previously played for many years a beautiful Australian violin, made by A E Smith.
At Symphony Series 2 – Wild you'll be performing the World Premiere of composer Elena Kats-Chernin's new Violin Concerto. How does it feel to be playing a piece specially written for you?
It is a thrill to be performing the world premiere of Elena Kats-Chernin's Violin Concerto. I have always loved Elena's music – there is something very honest and generous about the way that she connects with music. Of course, as a violinist, there is no shortage of concertos, but I think it is very important that we are always playing and creating music that is relevant to us today, music that reflects our society and the world around us. I have no doubt that Elena Kats-Chernin's new violin concerto will become a very important part of the violin repertoire, and it is a huge privilege and responsibility for us to bring that to life with Maestro Benjamin Northey and the ASO.
How important is it to you to play repertoire from female composers?
What an exciting time of revival we are living in, to have unearthed so much wonderful music written by female composers which were almost mostly forgotten or severely underplayed! On my last disc, I recorded works by Lili Boulanger, and often perform works by Clara Schumann, Amy Beach, Florence Price just to name a few. It is so exciting to have female composers at the forefront of creativity today, including our very own Elena Kats-Chernin.
Is there anything else you'd like to add?
Thank you to the ASO for gifting me with this privilege to perform alongside you all in 2023. As an Australian, to have this connection with one of the finest orchestras in the country is a deeply moving and emotional tie to my home. To our audiences – I hope that you will come and enjoy our music with us, we will pour our hearts and soul into every note to create moments which we hope you won't forget!