5 minutes with Composer Elena Kats-Chernin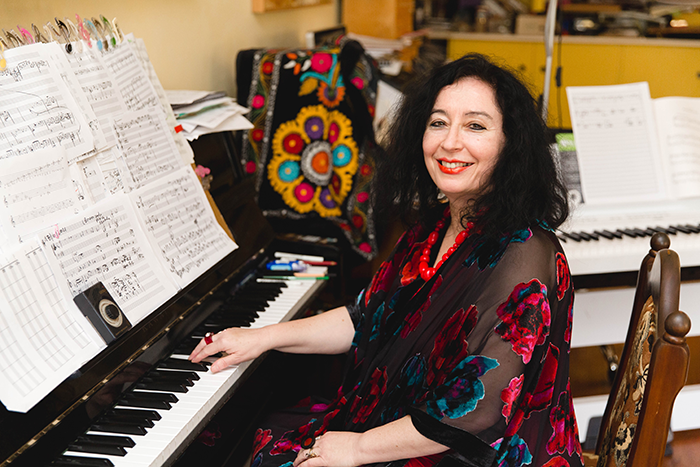 Before hearing Elena Kats-Chernin's new Violin Concerto, Fantasie im Wintergarten, at Symphony Series 2 this April, discover the inspiration behind the work and her compositional process.
How did this world premiere come about? Did ASO commission you?
This is my first violin concerto, commissioned by ASO, generously supported by Mary Lou Simpson OAM. The magnificent soloist Emily Sun had mentioned a few years ago that she would love to play a concerto written by me, and as sometimes happens, things came together almost magically through our agent, Jackie Thomas-Piccardi, and Simon Lord at ASO, and Mary Lou Simpson! Mary Lou and I have known each other for more than a decade, as she had previously commissioned two piano works from me, including for the Flinders Ranges Ediacara Foundation, so to have this kind of continuity, through ASO, is immensely fulfilling, and something I really cherish.
How much of a relationship do you have with ASO?
I have been fortunate to have had a wonderful ongoing relationship with ASO, which started in 1996 with a recording of the "Fantasy on an Anthem". It continued with ASO recording a whole CD of my works for orchestra, including "Displaced Dances" and "Zoom and Zip" in the early 2000's. I am very excited to be working with this very creative orchestra again.
When you were writing the new work, did you know that Emily Sun (ASO's Artist in Association for 2023) would be the soloist?  And have you talked with Emily about the piece?
Yes, I always knew this concerto would be for Emily as soloist. We have met when she has been in Sydney and had a few chats, and discussed some things that both Emily and I wanted to hear in this work, including some lyrical melody lines but also some edgy rhythmic sounds and shades of light and dark. The solo violin part is multifaceted between virtuosic, poetic and sometimes surreal.
Does it make any difference to you when you compose a new orchestral work if you know who the soloist will be?
Knowing the soloist is comparable to knowing who will be the protagonist in a play or a film and it makes a huge difference to me.  I vividly imagine that performer while writing.  It even helps me to know the size of their hands. I have been fortunate to see and hear Emily perform several times, and I kept coming back to this image, while composing the piece.
What were the inspirations behind it, and does it explore particular themes and ideas?
Not long before I commenced composing this concerto I had completed a score for a German silent film from the 1920s. At the base of that film is a tragic human story that plays out in the fairground and circus milleu. Working on that film was all-consuming and I was so engrossed in its themes that I felt driven by some of its ideas to spill over into the violin concerto which was my next composition. I designed the concerto as if it was a fantasy on those themes, from the place called "Wintergarten" in Berlin where variety shows were performed.
Can you tell us a bit about the musical style of the piece?
The style of the piece is what you might call a synthesis of 1920's sensibility with its punchy rhythms, dance and blues elements, muted brass and clanky percussion sounds as well as salon music flavours. At the core of this violin concerto is a tense, mysterious and suspenseful, sometimes abstracted atmosphere and I would almost call it 'Fantasy Elegy'.
Did it take long to compose? Did it flow freely when you sat down to composer it, or did it present challenges?
Before I write the very first dot on manuscript there is an incubation time of many musical ideas that are swirling in my head, I let the subconscious mind work away for weeks and sometimes months before the actual writing down of material starts. Then the flow begins and the piece unfolds sometimes in linear way, and other times like a collage. The final phase of the process is orchestration which in this work involved fine-tuning the balance between soloist and orchestra. I like to think of it as a musical dialogue and interaction between one person and, let's say, 50.
Ben Northey is conducting it. Have you had any conversions with him about the work?
I love working with Ben Northey, and have been fortunate to have had pieces conducted by him many a time and each occasion was filled with joy and uplifting collaboration. And so it is sure to be, also for these concerts with Emily.
Do you plan to be at rehearsals?
I am greatly looking forward to be present at each rehearsal of my violin concerto and hearing the work played by such an outstanding team of musicians. I'm sure I will also have some exclusive time with Emily in the coming weeks to decode the work together, too.