5 Minutes with Guest Horn Andrew Bain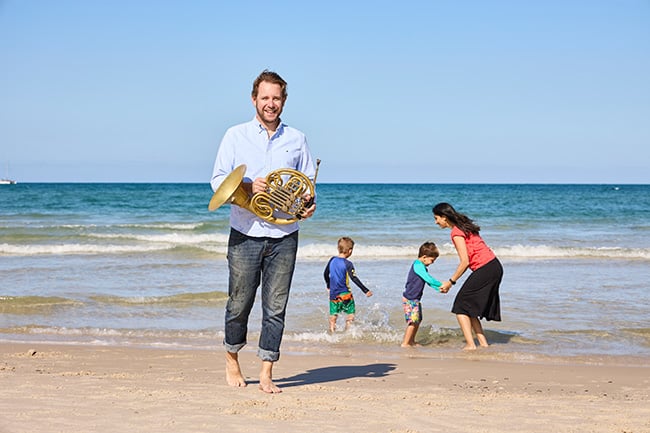 Adelaide's own Andrew Bain, now Principal Horn of the Los Angeles Philharmonic returns home for the World Premiere of a concerto written for him by one of Australia's leading contemporary composers Paul Dean at Symphony Series 6 – Tragedy to Triumph this August.
How did a boy from Adelaide end up on stage with the Los Angeles Philharmonic, a position you've held since 2011?
With a lot of good fortune and a lot of practice. I started my career in the Adelaide Symphony in 1997 and moved to several orchestras. In 2011 the job at the LA Phil came up and I decided to give it a go. I was living in Melbourne at the time so I flew to LA, played the audition and at the end of the audition, Gustav Dudamel hugged me and offered me the job. I was very lucky and it's been an interesting journey.
Do you come from a musical family? What sparked your passion for music?
I don't come from a musical family, I come from a sporting family. Both my parents played Lacrosse for South Australia and my mum played Basketball for Australia and South Australia. When I was young my parents organised some piano and singing lessons for me and I enjoyed music from there. I studied at Brighton High School picked up the horn there and I think the combination of the discipline needed for sport and the enjoyment of playing music was a good one and it kept going from there.
You perform in the Walt Disney Concert Hall. Does it disappoint you that Adelaide still doesn't have its own purpose-built concert hall and centre for music?
It is disappointing that Adelaide doesn't have its own concert hall. One of the interesting things in LA is that the Walt Disney Concert Hall has become the centre of the city. The area around the hall has some great museums and an opera house and an incredible cultural life that has developed since the Walt Disney Concert Hall was built. It's a real hub for the arts and I think Adelaide being such an incredible arts city and generally just a great place to be it would be fantastic to have a concert hall in Adelaide and would have the same effects as the redevelopment of Adelaide Oval. I remember coming back for the first time after Adelaide Oval had been redeveloped and the feeling of the city was just amazing and I think a concert hall in Adelaide would have very similar results.
You attended Brighton High School in their special music program as well as receiving a Bachelor of Music from the Elder Conservatorium of Music at the University of Adelaide. How do you feel about being back in Adelaide and performing Paul Dean's World Premiere Concerto?
I am thrilled to be back in Adelaide playing with the ASO. It's always wonderful to come back to Adelaide, it is such a special city it always feels like home. The Adelaide Symphony is very close to my heart as it was my first orchestral job here. The orchestra is wonderful, the city is a wonderful city and to be able to come back and premiere a piece from a really good friend of mine, Paul Dean, is a dream and I am so excited to be able to present it to audiences in Adelaide.
Tell us about the piece. What can audiences expect to hear?
The piece is fantastic, it is incredibly athletic for the horn and very challenging for the orchestra. Paul writes in such an amazing way he understands all the instruments of the orchestra, he understands how the horn works. It is going to be a lot of work for me to learn this piece and play it at a high level but it's a challenge I am excited about and the audience are going to be able to hear some cool music. I think it's going to be a lot of fun.
How long does it take to prepare a new piece? How is the process different to rehearsing something familiar?
We were originally going to play Paul's piece in 2020 and then of course COVID happened and I was looking at around about a six month preparation period. Having gone to learn the piece in 2020 and going back to refresh it is really interesting I come up with different ideas now and Paul has changed a few things. It takes a lot longer to learn a new work, to become familiar with it to really feel the style. Whereas in the orchestra coming back to a Mahler symphony we've played multiple times, obviously I don't have to learn the notes but I bring different experiences back to those pieces so they do change every time you come back to them but it is a lot easier in the preparation that's for sure.
Will your wife Rupal and your two boys, Jasper and Sebastian be in the audience?
That's a good question, Jasper is starting school in LA the week of the premiere so I think they'll be back in Los Angeles but they'll be very excited to hear the recording and they will get to hear it many times at home when I'm practising it that's for sure.
Your lifetime dream of working with John Williams became a reality when you played principal horn for the score of 'Star Wars: The Force Awakens. Did you get to meet Williams? Describe the experience?
Playing for John is a really special thing. For all of the Star Wars films John conducts them so I had the opportunity to work with him and he works with the LA Phil multiple times every year. He conducts a maestro at the movies concert at the Hollywood Bowl so we've been working together for almost ten years now. Working on Star Wars with him was something unique and very special. The feeling in the studio on the first day of The Force Awakens was one that I will never forget, it had an amazing energy and atmosphere. All of the Hollywood musicians play at such a high level but that recording was something special.
What is on your list of things to do when you are back in your hometown?
We've got to come to Henley Beach. The kids love coming to the beach and running around and jumping in the water. My parents live here and I have a brother here so catching up with them is obviously really important. And we really enjoy taking the kids up to Cleland to see the koalas, kangaroos and all of the Australian native animals. Then into Rundle Mall for a wander around and then getting something to eat on Rundle Street is also important. It is always nice to be back in Adelaide surrounded by familiar feelings and settings.
Info & Tickets