5 minutes with Violinist Ilya Gringolts
12 Sep 2023
Meet the Artists
Musician Spotlight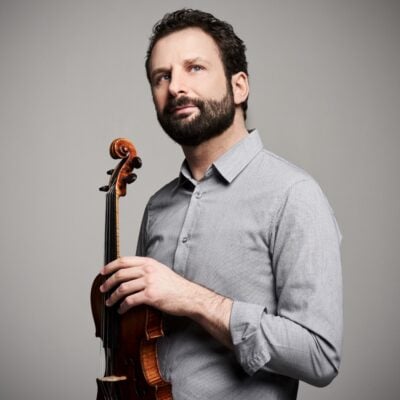 The Russian-born violinist is celebrated for his scintillating virtuosic talent, which saw him, aged 16, become the youngest ever winner of the International Violin Competition Premio Paganini and undertake study under Itzhak Perlman at New York's Juilliard School before a soaring career as a soloist.
He takes to the stage in Symphony Series 7 – Dreams, Fri 22 & Sat 23 Sep at Adelaide Town Hall
You have described yourself as a bit of an archeologist, how so?
I dig deep and come up with shards. Playing music by dead composers involves a lot of bone analysis, DNA and all. Old records, the history, murder motives. 
You are performing Prokofiev's Violin Concerto No.1 – Tell us about the piece and what makes it unique? Do you have an emotional connection to the piece? Where do you rank Prokofiev's Violin Concerto No.1?
It is perhaps my favourite work by Prokofiev – so bold and fresh, so naive and innocent. The sarcasm is already there, but it is overshadowed by sentimentality. I've known this work since I was about 20, played it multiple times – and it is a discovery every time I play it.
The concert is titled Dreams do you think the title aptly represents the concerto and how so?
The violin entry is marked "sognando" – dreaming – which is very apt indeed! The whole concerto is rather like a beautiful dream, especially the end-sections of first and third movements.
Tell us about your violin
It's a 1719 Stradivari, a beautiful piece from Strad's so-called "Golden Period" – I've had it altogether for about 9 years and wouldn't have it any other way!
Who or what inspires you?
My family mostly, but also some colleagues whom I shall not name – as the other colleagues will get hopelessly upset!
You are devoted to supporting new work and have established with Ilan Volkov, the I&I Foundation to commission new pieces. This concert features the Australian Premiere of young British composer Grace-Evangeline Mason's The Imagined Forrest. Why is it so important for orchestra's to play new work?
Any music we play is or was once new – we must play new music, it's the only sustainable way forward! Quality isn't important – as Michel Gondry once said: "Quantity stays, but quality goes".
You have played with the ASO previously what sets them apart from other orchestra's across the globe?
The ASO is a lovely orchestra, I'm really looking forward to playing with them again! The best orchestras make each new visit feel like coming home – the ASO is definitely one of them!