Cameron Hill on playing Bartók's Rhapsody No.1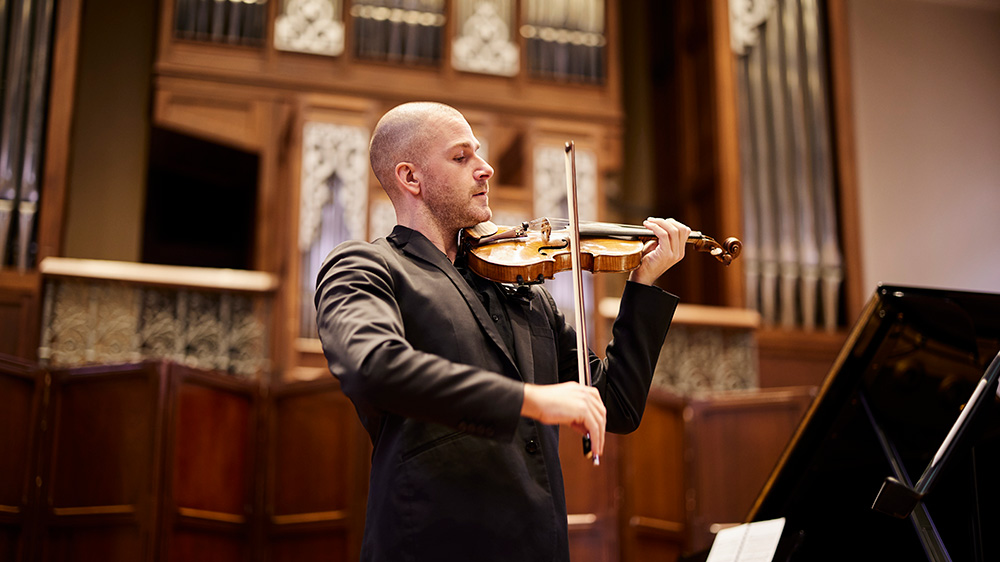 Ahead of his performance of Bartók's Rhapsody No.1, we asked ASO's Associate Concertmaster Cameron Hill to share with us a bit more about the piece and how he's preparing for it.
You can hear Bartók's passion for the folk music of his native Hungary in every bar of this scintillating Rhapsody.  Can you describe what you are hoping audiences will hear when you play it?
Bartok studied and recorded the folk tunes of Eastern Europe extensively. Audiences will hear influences from a range of regions. The first Rhapsody largely uses folk tunes from Transylvania, with additional tunes from Hungary, Slovakia and Ukraine.
What challenges are you finding in preparing for the piece?
There are quite a lot of challenges, but hey, that's Bartók! There are numerous double-stopped and artificial harmonic passages that are not comfortable whatsoever. Musically, it's also important to establish distinct colours and ideas for the different episode, and to bring out the gypsy-infused style of the Hungarian fiddlers.
Is this a work you are familiar with, have you played it before (when and where) and if so how will you approach it differently this time?
I played it in my 1st-year of Uni at the Melbourne Con, but that was the original version for violin and piano. With a full orchestra behind you, there are many more things to consider. Apart from balance, one needs to focus in on how the solo wind or brass lines are woven in with the solo violin line.
The title for this concert is Beauty, do you think the Bartok aptly reflects the title and how so?
Absolutely. Upon discovering these folk tunes, Bartok himself spoke of "this newly-covered musical rural material of incomparable beauty and perfection." Whilst this Rhapsody gradually descends into a particularly brutal episode, the overriding feeling is quite joyful. It's incredibly uplifting and exuberant!
Is there anything else you would like to add to encourage patrons to come and see the concert?
It's very rare to hear this work performed with an orchestra. The orchestration adds so much colour and flavour! Come!
Don't miss Matinee Series 1 – Beauty, Wed 13 April at Elder Hall