Meet ASO Principal Bass Trombone Amanda Tillett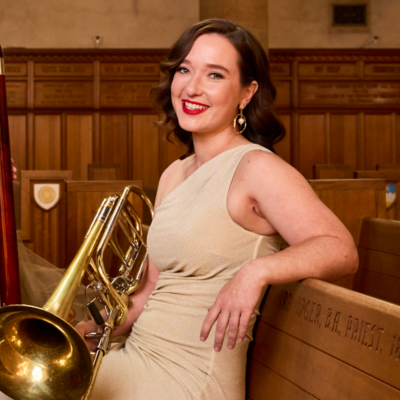 Get ready to be inspired by Amanda Tillett, ASO's new Principal Bass Trombone player! In this interview, she shares her unique journey to landing a full-time job in music, her passion for music education, and her memories of attending ASO concerts as a child.
I knew I'd make a career in music when…
I don't think I ever knew, though I started actively pursuing it from about the age of 10. I always said if I hadn't landed a full time job by 25 I would give up, but I was 28 when it finally happened so I guess I enjoyed the process along the way!
Did you grow up in a musical household?
Both of my parents played trombone on and off throughout my childhood and my grandad tried to teach me piano. We frequently had Shostakovich and Respighi on rotation in the CD player, as well as The Beach Boys, Pink Floyd, and Ben Folds.
How did you feel when you knew you landed a principal position with the ASO?
As I'm sure anyone will say it is a big feeling of elation, but also relief. A lot of travel, part time work and failed auditions led to this moment! This position in particular is very special to me as it was previously occupied by my former teacher of 6+ years, Howard Parkinson. I'm also really privileged to be able to come back to my hometown after many years living interstate.
What do you love about playing with the orchestra? It's a really 'feel-good' sort of moment when you play in a section that blends well together – the ASO low brass have these moments often. We're always both challenging and encouraging each other, it's such a stimulating environment and when you get it right the overall sound can be really incredible. You have to be present at all times.
How important do you believe a musical education is? Vital! Even if you don't want to pursue it as a career, it broadens your mind like nothing else. Music gives you the opportunity to listen and create, it's solace for the individual and it brings people together.
If you weren't a professional musician what would you be: I'm no athlete, but now that women's AFLW is taking off I reckon playing for the Crows would be a pretty cool job. I also like the idea of being a mechanic.
How did you choose Trombone? Both of my parents played trombone so it's no surprise I resonated with the sound of it. I actually started out on trumpet and was really disappointed not to pursue it, but the trombone just seemed to fit better.
Is there anything special about your instrument? You can mix and match a lot of components on a trombone – half of my tenor trombone is the same equipment I've been on since upgrading to a professional level instrument (thanks mum) the other half I acquired in Melbourne. My bass is nothing special, I bought it off my old housemate out of necessity and I'm sure there are better instruments out there. I do have a gold plated mouthpiece though.
What piece of music are you most looking forward to playing in Season 2023 and why?
Strauss' Don Juan – it's a banger!
Who has influenced you most as a musician?
I've had so many important teachers in my life it's really hard to pick just one. I think I have to say my dad. He was my first ever trombone (and trumpet!) teacher and has been the most enthusiastic audience member.
If you could play a different instrument, which would you choose and why?
Trumpet 1000%. They get all the best lines in orchestral music, and when it's done well it just sounds so impressive. Just listen to the piccolo solo in Penny Lane.
Which solo or moment in the brass orchestral repertoire is your favourite?
I think it has to be the chorale in Mahler's Symphony No.2. In my opinion trombones sound best together, even though there are some great solo moments too. It's just epic writing that leads us into the next climax, you can't stop listening.
What piece of music never fails to move you?
I can name a couple of orchestral pieces, but the most honest answer is the music from Jurassic Park/Star Wars/Harry Potter. It is so uplifting, it's impossible to feel sad when listening to these incredible scores by John Williams. Great trombone writing, too.
Do you remember your first orchestral concert experience?
My dad took me to the ASO a lot when I was younger. I can't necessarily pinpoint a specific concert, but I have strong memories of waiting in the Town Hall sharing a block of chocolate and a Farmers Union Iced Coffee together, cheering on the trombones at the end and just being overwhelmed by the incredible collective sound. Every time I watched them play I just wanted to be a part of it.