Mark

Ferguson
Instrument

Piano/Arranger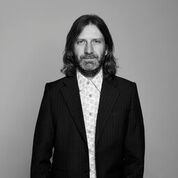 Mark was born into a musical family and raised in country SA. He began piano lessons with his mother at age five and at nine he had informal composition lessons. He developed an interest in Jazz at High School and went on to complete a Master of Music in Jazz Performance at the University of Adelaide (where he now holds the position of Lecturer in Jazz Piano).  He was also a semi-finalist in the National Jazz Awards in 1999.
Mark has performed with artists across many different musical styles including Rufus Wainwright, Mark Murphy, Ray Vega, Lior and Beccy Cole. He has toured as Musical Director for Johanna Allen, Camille O'Sullivan (including her 2015 Helpmann Award winning show Changeling) the musical Mother, Wife and the Complicated Life and the Musica Viva in Schools group Marmalade Jam. He was MD for the Closing Gala of the 2017 Adelaide Cabaret Festival and has been part of the MD team at the Cabaret Festival Backstage Club since 2014.
In 2007 Mark completed his first commission for the ASO; rearranging Handel's Messiah as Gospel Messiah. In 2015 he composed The Bush Concert for the ASO which was followed by Herman and Rosie in 2017. In 2013 he wrote the song cycle The Moral of the Story for the SA Public Primary Schools Music Festival and he has just completed their major commission for 2018. Mark composed the Nexus World Music Series Commission Whit Dae Ye Cry Thon Yin in 2013. He also composes regularly for the JazzSA Youth Superbands and the Adelaide University Latin Ensemble.
Mark's ensemble Marmalade Circus performed at Jazz in the Domain at the Sydney Festival in 2002 and Carols by Candlelight in Elder Park in 2012. He has recorded five albums with his Marmalade ensembles.