Andrew McKinnon Presents "Mad for Love": Globally Acclaimed Opera Star Sumi Jo in Concert with José Carbó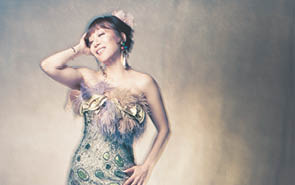 The internationally celebrated Grammy Award-winning coloratura soprano Sumi Jo returns to Australia this July for a series of unmissable concerts in Adelaide, Melbourne, Sydney and Brisbane.
One of the world's greatest exponents of bel canto (beautiful singing), Sumi Jo will perform a magnificent program of music from her unsurpassed repertoire, joined on stage for the first time by dashing Argentine-born baritone José Carbó.
With over 50 recordings to her credit Sumi Jo is the highest selling classical singer in the world, and one of the most sought-after sopranos of her generation. Her concerts have delighted audiences globally, including performances at the Summer and Winter Olympics, and for the Pope. Legendary maestro Herbert von Karajan described Jo as having 'a voice from above'.
José Carbó, born in Argentina to Spanish and Italian parents, has become one of Australia's most popular baritones, touring locally and internationally with Opera Australia, Victorian Opera and Los Angeles Opera since 2005. His debut album My Latin Heart débuted at no.1 in Limelight Magazine Classical charts.
Sumi Jo and José Carbó will ignite Australian stages with renditions of the most passionate arias and duets from opera and operetta, as well as tango, and traditional folk song from Jo's native Korea. Her astonishing vocal technique and purity of tone will be matched by an exquisite wardrobe for a night of operatic glamour.
Andrew McKinnon, who has brought Sumi Jo to Australia for her two most recent tours, said he is delighted that she has accepted his invitation to return for this concert series.
McKinnon said "I have always loved the art of bel canto and Sumi Jo is one of the greatest interpreters of this thrilling music. I wanted to pair her with the wonderful Australian singer José Carbó to ensure that this will be an unparalleled night of romance which will live long in the memory of all who attend."
Sumi Jo and José Carbó will be accompanied by one of Australia's most popular pianists, Guy Noble, who will also conduct the Adelaide Symphony Orchestra. Adelaide is the only date that features a full orchestra with all other cities being recitals.
Adelaide Symphony Orchestra Managing Director Vincent Ciccarello said, "Sumi Jo's Mad for Love Australian premiere in Adelaide proves that ASO's popular Showcase Series has something for everyone. Renown as much for her vocal ability as her sense of style and fashion, the concert is set to be an evening of lyrical brilliance and glamour on stage."
The ASO is a world-class symphony orchestra, in addition to presenting classic repertoire the orchestra has a reputation for versatility in its Showcase Series of concerts that embraces popular contemporary music, adding pow to pop, while soundscapes burst beyond the cinema screen and disco dance anthems swell to their fullest glory.
www.amckinnon.com.au/production/mad-for-love/
ASO SHOWCASE SERIES Sumi Jo MAD FOR LOVE
Sunday 15 July, 5pm, Festival Theatre
Sumi Jo Soprano
José Carbó Baritone
Conductor Guy Noble
National Tour Dates:
Sunday 15 July, 5pm, Adelaide Festival Theatre
Tuesday 17 July, 7.30pm, Melbourne Recital Centre
Thursday 19 July, 7.30pm, City Recital Hall, Sydney
Saturday 21 July, 7.30pm, QLD Performing Arts Centre, Brisbane
MEDIA ENQUIRIES:
Cheree McEwin, Publicist, Adelaide Symphony Orchestra
08 8233 6205 / 0416 181 679 / mcewinc@aso.com.au
National Publicist Robbi James, KABUKU PUBLIC RELATIONS
(02) 9690 2115
0420 983 559/ robbi@kabukupr.com.au